Are you about to take the Ontario G1 test? If yes, you need to have an idea of what to expect; this will increase your chances of passing the test.
With sharp turns, you should steer…?
Making a turn, you should check…?
The right of your vehicle
---
You should have finished braking for a turn before…?
When making a turn, you should…?
You can start to increase speed when turning…?
In the middle of the turn
---
Before you begin the turn
---
When you're turning a corner, you should make your signal…?
When turning right, you should make your manoeuvre from…?
Share the quiz to show your results !
Subscribe to see your results
Turning a corner
I got %%score%% of %%total%% right
%%description%%
More Learning Options:
Ensure You Signal Properly Before The Turn
When turning a corner, ensure you signal properly before the turn. You should only move to the proper lane if the way is clear. If you want to turn right, move to the far-right lane and if you are turning left, move into the far-left lane. Signal your turn to alert the other motorists and look from side to side, and check your blind spots to ensure you have a clear way.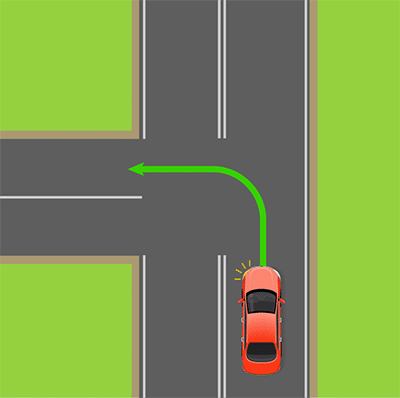 Reduce your speed before entering your turn; you should drive slower if the turn is too sharp. Finish braking before turning the steering wheel to have total control of your vehicle. With a sharp turn, use one hand for turning the steering wheel while crossing the other hand over the wheel. Grip the other side of the steering wheel and continue to turn.
Upon completing the turn, relax the grip on the steering wheel, gently feel it through your hands or let it slip until it returns to a straight-ahead position. Don't turn the steering wheel using a flat palm or one finger of your hand. Increase the speed progressively until you finish the turn. Most drivers lose control of their vehicles and skid due to doing many things simultaneously. Try not to steer and brake simultaneously.