We know that taking the G1 test as part of your driving licence can cause anxiety in even the most confident driver. That is why we designed this free G1 practice test so that you can practice and get an idea of what types of questions will be asked on the actual test.
When in use, a trailer hitch should be…?
Pointing slightly upwards
---
Pointing slightly downwards
---
Vehicles should not be towed if their engine is not working if they have…?
Power braking and/or steering
---
Drivers with a G1, G2 or G license may tow trailers with a gross vehicle weight of up to…?
What percentage of collisions occurring while towing do not involve another vehicle?
A licence plate for a trailer is…?
Separate to the plate for the towing vehicle
---
The same as the plate on the towing vehicle
---
Only required if travelling to another province
---
If you need to tow a trailer, you must consider whether your vehicle is…?
Passengers must not ride in a towed trailer except…?
A food concessions trailer
---
Share the quiz to show your results !
Subscribe to see your results
Towing
I got %%score%% of %%total%% right
%%description%%
More Learning Options:
Top 8 Important Tips for Towing a Trailer: Guide for Newbies
Towing a trailer is exciting. It's also a little nerve-wracking, intimidating and confusing – especially if you're new to it. It's pretty easy to get overwhelmed, so we created this guide to help you relax, gain confidence and have the best time towing a trailer that you possibly can! We'll discuss important tips for towing a trailer for newbies.
1. Understand Tow Rating
Before you tow a trailer, you need to know how much weight your car can safely support. Tow ratings vary by make and model, so it's important to do your research before hitting the road. You can find the tow rating for your car on its door sticker, in your manual, or by calling your dealership's service department. Whatever you do, don't assume that your vehicle has a high enough tow rating just because it's big and heavy-a small SUV could have an equally high tow rating as a large sedan.
2. Hitch Up the Trailer Correctly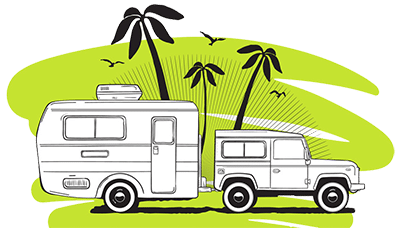 Properly securing your trailer is essential to ensuring its safe towing. Your trailer must be secured at three points: two on the sides and one on top. Each of these points has a specific purpose: the side points stabilize the trailer, while the top point is designed to help prevent swaying during travel. Ensure that all three of these points are secure before you start driving with a trailer attached. Also, note that some trailers have additional hitch points for hauling extra cargo-these should never be used as security points when hitching up to drive!
3. Consider Trailer Sway
This is one of the most important things to keep in mind when you're hauling a trailer. When you're driving down the road, you don't want your trailer to start swaying back and forth behind you. It can be really dangerous-not just for you, but for anyone else on the road. When you look into getting a trailer hitch, make sure that it's designed with your specific vehicle in mind and will keep your trailer from swaying out of control.
4. How to Drive When Towing
You might be surprised at how much driving is different when you're towing a trailer. It offers more resistance than you might expect; it's not just a small hitch that makes your vehicle feel heavier. It requires much more caution and patience than normal driving. Here are some tips for driving with a trailer:
Drive slower than normal, as steering will be more difficult and take longer than usual.
Don't stop too abruptly. This can cause your trailer to jackknife or hit another vehicle behind you.
Watch out for other vehicles on the road. They might not realize that you're driving with a trailer attached and not understand what kind of room they need to give you.
Take your time. On the road, you will always encounter traffic and construction zones. Provide yourself with extra space between your vehicle and the car in front of you so that you have time to react to situations as they arise.
Avoid sudden stops or turns. If you need to slow down or turn, do so at a slower speed than normal so that your trailer has enough room to follow along safely.
Make wider turns than usual. Allow for more room when turning than you would if you were driving alone, as well as when passing other vehicles or pedestrians in an intersection.
Check both mirrors regularly before making any maneuvers. Trailers tend to sway from side to side behind the vehicle, so it's important to keep an eye on them at all times while driving!
5. Know Trailer Weight
Make sure you know exactly how much your trailer weighs before taking it out for a spin, as well as what each component weighs (if there are multiple components). It's important to know this so that when you're loading and unloading your gear, you can ensure that everything is evenly distributed and won't cause problems with sway or balance further down the road.
6. Consider Your Tongue Weight
The tongue weight is the downward force that the trailer exerts on the vehicle's hitch to which it is attached. Depending on the trailer's suspension, you'll want to check the weight of the trailer tongue (the part of the trailer that sits on the hitch). The tongue should account for 10-15% of the total weight of your trailer and everything in it. Make sure you've determined yours before getting on the road, or you could end up with an unpleasant surprise when you get there.
7. Check Trailer Brakes
If your trailer weighs more than 2,000 pounds unloaded or if its gross vehicle weight rating (GVWR) exceeds 3,000 pounds, then it needs brakes. Ensure they're installed and working properly before you head out on the road. There are two types of trailer braking systems: surge brakes and electric brakes. Surge brakes use the force to stop your vehicle from engaging the trailer's brakes, whereas electric brakes require a breakaway system if the trailer detaches from your vehicle. It's important to know which type of brake your trailer has before starting.
8. Finding the Right Parts for Towing
Before you get started, check your vehicle manual. It will have specific information about what your vehicle needs in the way of hitches, connectors, and wiring. There are many different hitches available; they're not all created equal.
The hitch helps secure the trailer to your vehicle, which is why it's so important that you make sure it's designed specifically for your car or truck. If it's ill-fitting or incompatible, this could cause serious problems while you're on the road-and even more seriously impairing if it happens on a highway or freeway at high speeds. Don't just pick up any hitch and expect it to work out-make sure you've got the right one for your vehicle first!
Wrapping Up
Towing a trailer can be a thrill. After you've gotten your new trailer and the perfect tow vehicle, you're ready to hit the road. But if you've never towed a trailer before, it can be an intimidating experience. However, with the tips discussed above, you can drive safely.