Quiz: Stopping for school buses
Lucky for you, we've done our homework and that's exactly what we're going to include in this Ontario G1 practice test.
When you approach a school bus with flashing red lights from in front, you must leave…?
Enough space for children to cross
---
All Ontario school buses are…?
Approaching a school bus with flashing red lights from behind, you must stop at least…?
School bus laws apply on…?
All roads with 50 km/h limits
---
Failure to stop for a school bus showing flashing red lights may be punished with a large fine and…?
After stopping for a school bus you must not resume driving until…?
Its warning lights are off
---
You can see no more children
---
Approaching a school bus with flashing red lights on a road with no median strip, you must stop…?
Unless approaching from in front
---
Unless you can see no children
---
Unless you can switch to an outside lane
---
Share the quiz to show your results !
Subscribe to see your results
Stopping for school buses
I got %%score%% of %%total%% right
%%description%%
More Learning Options:
School Bus Stop Rules: Here's What Drivers Should Know
Any driver must obey the school bus law in Canada on any road no matter what the speed limit you are driving or how many lanes it is. Stopping for a school bus that is near you is important to ensure the security of the children and for you not to pay the penalties if you violate some rules. These are the rules when you are driving near a stop school bus and its penalties when you don't follow these rules.
Upper Alternating Red Lights Flashing
Whenever you are driving and approaching a stopped school bus with its upper alternating red lights flashing, you must stop regardless of whether you are approaching the bus from the front or you are behind it. If you are driving from behind the bus, you must stop at least 20 meters away. If you are approaching it from the front, you must stop at a safe distance so that children or students can get off the bus and they can cross the road in front of you safely. Do not start driving and you must wait until the bus stops its flashing or until it moves.
Median Strip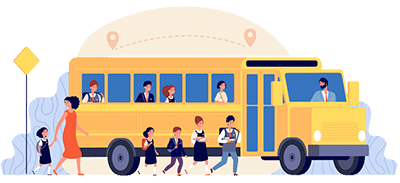 A median is a physical barrier such as a lowered, raised, paved, or earth strip that is being constructed to separate traffic traveling in various directions. If you are driving on a road having a median strip, only those vehicles coming from behind the bus lane or in the same direction of the school bus must stop as vehicles must not cross over a median strip. Vehicles that are coming from the opposite direction are not required to stop.
Roads Without a Median
For those roads without a median, those vehicles that are in both directions must stop. If the school bus is facing you, stop at a safe distance so that children can get off and on the bus and they can cross the road. If you are driving behind the bus, stop at least a minimum required of 20 meters away.
Railway Crossings
You must watch also buses that are near railway crossings. All school buses are required to stop at all railway crossings, however, upper alternating red lights of the bus are not used for these particular stops.
Penalties
If you driving and you drive past a stopped school bus wherein its stop arm is being activated or its upper red lights are flashing, you need to face and pay the following penalties. For a first offense, fines are ranges from $400 to $2,000 and there is 6 demerit point. For each following offense, there is a fine of $1,000 up to $4,000, 6 demerit points, and a possible jail time which is up to 6 months. The registered owner of any vehicle that is illegally passing a school bus that is caught by the stop arm cameras on school buses may be charged and fined. As the registered owner of the vehicle, you may receive and pay the fines even if the driver is not charged or the one who is driving. If you don't pay the fine, you will not be able to renew the permit for the vehicle.