g1course.com is designed to help you obtain a driver's license in Ontario by explaining the Ontario motor vehicle laws, traffic rules, and road signs. 
Regulatory signs are generally what shape?
Warning signs are generally what shape?
School zone signs indicate that you must…?
Warning signs exist to alert drivers to…?
Stop signs mean that you must…?
Stop if there is any other traffic
---
Slow down and be ready to stop
---
Temporary condition signs are diamond shaped and what colour?
Stop signs are what shape?
A yield sign means what?
Prepare to stop if necessary
---
What shape are yield signs?
If a regulatory sign has a green circle in it, it means that the activity illustrated is…?
Only permitted at certain times
---
Information and direction signs are generally what colour?
School zone signs are fluorescent…?
If a regulatory sign has a red circle in it, it means that the activity illustrated is…?
Long Commercial Vehicle signs warn you that you are approaching a vehicle that can be up to what length?
A white X-shaped sign with a red border means…?
Yield to oncoming traffic
---
Share the quiz to show your results !
Subscribe to see your results
Signs
I got %%score%% of %%total%% right
%%description%%
More Learning Options:
Traffic Signs: Here's Everything You Need to Know
What is it?
If your drive a vehicle or commute regularly, you might have noticed these traffic signs along your way. Essentially, traffic signs are used as means of warning and driving drivers of the necessary precautions they need to adhere to while driving on a route. More than this, these signs regulate the flow of traffic among vehicles, motorcycles, bicycles, and pedestrians who take routes on highways and other roadways.
Traffic signs tell the information you need to adhere to and follow the traffic rules and regulations legally set in your city's laws. These signs are presented in different symbols, shapes, mostly with neon colors for easier identification for the drivers to recognize these from afar. The Ontario Ministry of Transportation and other local governments also implement traffic signs on their roadways.
Consequently, if you want to secure a driver's license in Ontario, you should be able to recognize these traffic signs as it is a prerequisite for passing your driver's license test.
What is its purpose?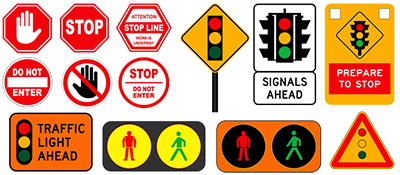 All road signs and traffic signs aim to convey a message that is clear, simple, and direct. These signs should be prominent and noticeable enough to get the driver's attention and these should be placed in a manner that gives a driver adequate time to change his course of action and respond immediately. After all, no one would want to travel along a route that has a non-existent traffic sign placed into it.
To lessen road accidents, mishaps, and unwanted road rage, traffic signs aim to protect the drivers' lives and also the pedestrians walking by. Aside from this, traffic is regulated and a smooth flow of vehicles is ensured.