Quiz: Sharing the road with large commercial vehicles
If you adequately prepare yourself for the G1 written knowledge test, you're more likely to ace the G1 exam on your first attempt. Even if you don't succeed on your first attempt, you can go back to the drawing board and figure out how to improve your score.
At 80 km/h, the stopping distance for an LGV is what?
Right turning LGVs often…?
Stay in the middle of the lane
---
You should be wary of LGVs…?
Because there is lots of turbulence around them
---
Because they create a lot of spray in bad weather
---
Because they may roll backwards prior to moving off
---
The majority of fatal accidents involving large commercial vehicles are caused by…?
On a two-lane expressway an LGV turning left will often use…?
When approaching a turning LGV you should…?
The driver of an LGV can't see you if you can't see what in their mirror?
The side of their vehicle
---
Share the quiz to show your results !
Subscribe to see your results
Sharing the road with large commercial vehicles
I got %%score%% of %%total%% right
%%description%%
More Learning Options:
How to Safely Share the Road with Semi-Trucks
As a new driver, you may find yourself sharing the road with semi-trucks. These big trucks are everywhere on Canadian highways, so it is important that you are aware of how to safely share the road with them. Here are some tips that will help you navigate being around these large trucks.
Always give them enough space
Semi-trucks need a lot of room on the road, so you should always give them their space. You should maintain a distance in between your vehicle and the semi-truck that is at least four seconds from you. Therefore, when you are approaching a truck on the road, be sure to increase your following distance.
Do not tailgate them
Tailgating trucks is dangerous because it only takes a fraction of a second for the truck to stop. If you follow too close, and the truck has to slam on its brakes, there is a chance that you could rear end the semi-truck. If this happens, it will likely lead to severe damage on both your vehicle and the semi-truck, not to mention the potential for injury.
Don't pass them if it's not necessary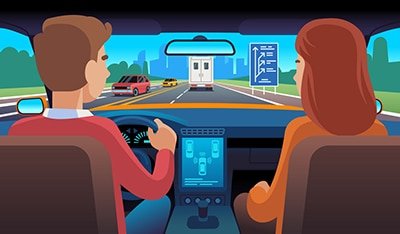 One rule that should always be respected is that if you should not pass a semi-truck until it is absolutely necessary. As a new driver on the highway, you should make it a point to stay behind these large vehicles unless you are passing them. Many drivers take chances when they pass trucks, and this is a move that can be very dangerous.
However, as mentioned above, if behind a semi-truck, let there be enough room between your car and the truck to be able to pass it safely. If you stay behind a truck that is going slower than the speed limit, stay behind them, but make sure you are not tailgating.
Never drive alongside a semi-truck
This may sound like common sense to many, but there are still people who do this. Driving beside a semi-truck is very dangerous because the slightest swerve could result in a collision. As you learn how to drive on the highway, you should make it a point to avoid driving alongside trucks for your own safety.
Be careful in inclement weather
If heavy rains or terrible weather like snow and sleet is happening, make sure you are extra careful when driving. Semi-trucks take longer to slow down and stop than regular vehicles, so you should slow down and keep more distance between yourself and any semi-trucks.
Look out for signs of fatigue
Because truck drivers are behind the wheel for long periods of time, they can become tired. If you think this is happening to the driver, be extra cautious when driving around the semi-truck. Keep your distance just in case the driver is not paying attention to the road.
Always be on the lookout for blind spots
When driving around a truck, you should always check for blind spots. Semi-trucks have large blind spots on the passenger and driver's side, so before you pass, change lanes or make any other move, look for the truck's blind spots. This will help keep you and anyone else on the road safe from an accident
Do not cut in front of a truck
This should be a no-brainer, but many drivers try to cut in front of trucks before they merge on to another highway. Cutting in front of a semi-truck is dangerous because the driver may not be expecting it.
Never make a U-turn when you see one
We all know the drill when it comes to driving. When in doubt, always make a u-turn. That is, unless you see a semi-truck in front of you. Many people make the mistake of making a u-turn when they see a semi-truck, but this is very dangerous.
You should avoid making a u-turn when you are behind a semi-truck because it can be very dangerous. You never know what could be coming on the other side, so make sure you keep driving until there is enough room to make the u-turn.
Final Thoughts
In Canada, it is very important to be aware of any semi-trucks on the highway, as they are so large and heavy. As you learn how to drive in Canada, make sure you always stay safe when driving around these massive vehicles. Understanding the tips listed above will help ensure that you are a safe and responsible driver out on the road.