Instead of walking into the licence office naively, you would do well to study, maybe even take an Ontario G1 practice test. Try the FREE test now!
If you have to stop briefly at the roadside, you should…?
Turn on your left indicator
---
If you have to stop briefly at the roadside, you should stop a maximum of what distance from the curb or verge?
Share the quiz to show your results !
Subscribe to see your results
Roadside stop
I got %%score%% of %%total%% right
%%description%%
More Learning Options:
Tips On How To Handle Roadside Eemergency
When your car met with a minor accident or breakdown on a secluded or busy highway it is considered a roadside emergency. In Canada, roadside emergencies are very common and statistics show that in the past 20 years fatal collisions have always stood at 4 digits with roadside emergencies being one of the top contributors to this.
Types of roadside emergencies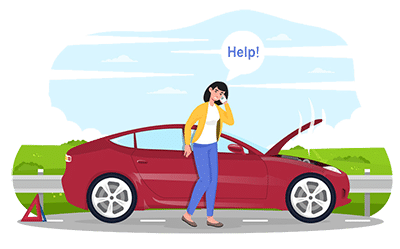 Based on the type of emergencies, your vehicle might stop immediately or can be driven to the roadside. Here we list some of the common roadside emergencies.
Flat tire – One of the most common roadside emergencies. This might happen due to leakage in the valve or a sudden burst of the tire.
Dead battery – This issue might happen if you accidentally forgot to turn off the light. This will consume all the battery life. Another one is when the battery life has expired, the vehicle might come to a sudden stop.
Overheated engine – This can be issues like an engine problem, radiator water not being enough or leakage.
Out of gas – This might happen due to leakage or you forgot to fill in petrol. The car might come to a sudden stop.
Tips
1) Immediate action
Whenever a car indicates it is having a problem, immediately try to pull over your car to the shoulder or a safe spot. If it is night time try to move under the street light. Try to avoid narrow roads, top of the hill or bottom of the hill as this can be an obstruction or lead to other problems.
2) Warn others
If the car comes to a sudden stop and you could not move to a safe spot, immediately turn on the hazard light (double indicator light). If it is safe to get out of the car then put in cones, signs or a triangle to warn others of the issue you are facing. If cannot get out of the car, just buckle up, lock the car and stay inside. Anything can happen on a busy road.
3) Tools
Some of the car problems can be solved by yourself. So always keep the essential items like jumper cables, jack, first aid kit and spare tire kit in the car. But only try to do this if you are in a safe spot.
4) Do not exit
When the car suddenly stops, we might panic and try to get out of the car to check. This is one of the main reasons for road fatalities in Canada. Always wait for the traffic to calm down if you are in the middle of the road. Always look for traffic before opening the door.
5) Roadside assistance
Immediately call for roadside assistance if you cannot determine the problem. They are available 24/7 and will bring your car to the nearest workshop for repair. After you called the roadside assistance, always stay inside the car. There will be some people who will offer help. Tell them politely that you have already called roadside assistance. Remember, not all people are good.
6) Roadside assistance apps
There are many ways to get roadside assistance. One of them is the usage of roadside assistance apps. Always keep this on your phone for emergencies. In Canada, there are many apps that you can use.
Blink
Honk
Jrop
Rapitow
Urgent.ly
Conclusion
Remember, roadside emergencies are a very serious issue but can be solved easily and safely. Use the given tips above in case of emergencies to prevent any problem for you and others.