If you feel nervous during the G1 written knowledge test, take deep and slow breaths for a few minutes, and try to think you've passed the test a hundred times before.
If another vehicle is coming up behind you and wants to pass, what should you do?
Move over the right hand lane
---
Move over to the left-hand lane
---
Maintain your course and position
---
You must not cross the centreline of the road if you are what distance from a bridge, tunnel or viaduct?
When passing a motorcyclist or cyclist, you should use…?
The whole of the left-hand lane
---
Half of the left-hand lane
---
25% of the left-hand lane
---
You must not make a passing manoeuvre within what distance of a pedestrian crossing?
If you want to make a pass, you should make sure there is plenty of room in the passing lane…?
If someone is passing you in the oncoming traffic lane, you should…?
Make sure you maintain your speed throughout
---
You must never pass a moving…?
You should not make a passing manoeuvre unless…?
You are positive that it is completely safe for you and other road users
---
You are positive that it is completely safe for you
---
You believe other road users will be able to get out of your way
---
You think it is probably safe
---
If a vehicle you are trying to pass accelerates as you do so, what should you do?
Slow down and move back to your original lane
---
Accelerate hard to get ahead
---
Sound your horn repeatedly
---
Start to move across towards them
---
When you have made a pass, you should not move back into the original line until you can see what in your inside mirror?
The whole front of the vehicle you have passed
---
Half of the front of the vehicle you have passed
---
The left-hand headlight of the vehicle you have passed
---
The face of the driver of the vehicle you have passed
---
Share the quiz to show your results !
Subscribe to see your results
Passing
I got %%score%% of %%total%% right
%%description%%
More Learning Options:
Tips and Rules for Passing Another Vehicle
When driving your vehicle, there are certain rules that you should follow to avoid accidents and keep yourself safe on the road. It is important to know these rules to overtake another car safely. This article will discuss the road rules for passing another car.
Slow down before overtaking and always look out for pedestrians, cyclists, and other drivers.
The most important factor in driving is not reaction time but attention. Many drivers fail to take into account the complexity of the road. For example, when driving on a major urban highway, there are hundreds of lanes and lots of traffic in all directions. This forces drivers to constantly scan their surroundings for potential threats and react accordingly. When one driver sees another coming from the side or behind them, they react accordingly.
Be sure to use your high beams to light up the road ahead of you.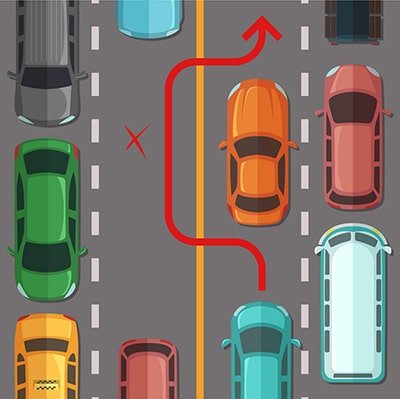 Many people are unaware that using your high beams when driving at night can benefit you, the driver. Other drivers can see you coming using your high beams and avoiding a collision. In addition, you must also use your high beams when driving through foggy or rainy weather.
Do not use your horn or lights unless you need to warn somebody or signal a turn or stop.
Unless you need them, using your horn or lights can be a dangerous and reckless mistake. It is best to remember to use your horn only when you need it, it's safe for other drivers and will not lead to an accident. When you signal a turn or stop, it is important that the way you signal is clear for other drivers and does not confuse them.
Ensure you have a safe distance between your car and the other vehicle.
The first rule of driving is to not drive too closely to the vehicle in front of you. That should be followed religiously, especially if the oncoming traffic is heavy. Tailgating can also be dangerous in some situations, such as when there are a lot of curves on the road or when other drivers have stopped suddenly. At a minimum, drivers should stay a safe distance away from other vehicles: at least three seconds in front and one second behind. That will give you time to react if something unexpected happens.
Do not drive faster than the speed limit
To overtake a car, you must be going faster than the car in front of you. If the driver ahead of you drives their vehicle at a speed of about 20mph, you must be going at least 20mph faster than it. That is also dangerous and illegal in most cases, especially when you overtake someone on the highway at high speeds because of the increased risk of accidents due to speed variance between vehicles and air resistance.
Overtaking someone else is not easy as it requires a lot of practice and patience. However, some best practices can make the process easier. Some of these best tips and rules for passing another vehicle include being aware of the person's speed, staying in your lane, using your turn signal to indicate when you want to change lanes, and, more importantly, always maintaining a safe distance from the person you are trying to overtake.