Even if you passed the Ontario G1 written knowledge exam, you still need to revise the rules in the MTO handbook; that's if you want to have a chance of passing the G2 or G driving test. The handbook has all the information in regards to road rules, the driving test procedure, and the basic maneuvers which will be tested.
If a police officer asks for proof of insurance, driver's license and/or your vehicle permit, to avoid sanction you must produce them…?
The maximum punishment for failing to pull over when a police officer tells you to do so is what?
When instructed to pull over by a police officer, you should stop…?
As far to the right as possible
---
As far to the left as possible
---
In the middle of the road
---
Wherever you are at the time
---
An instruction from a police officer takes precedence over…?
An instruction from a construction crew
---
Share the quiz to show your results !
Subscribe to see your results
Obey police
I got %%score%% of %%total%% right
%%description%%
More Learning Options:
What You Should Do If Stopped By a Police Officer
Police officers are a big part of Canadian society, and there is no doubt that they have a lot of power. They have the power to stop you if they suspect you have committed a crime or if you are breaking the law. It's important to know what to do when stopped by a police officer in Canada to avoid breaking any rules, getting into any trouble, and putting yourself in danger. Here are some things to keep in mind for when police officers stop you.
How to Proceed When A Police Officer Stops You?
When a police officer stops you, it is best to remain calm. It can be easy to get nervous and panic, especially if you are in a dangerous situation. If you are nervous, it is better to take a deep breath and stay calm.
It's important not to be rude or aggressive when talking with the police officer. You don't want the situation to escalate. It's best not to argue your case or try to convince them of anything, as this could lead to more trouble for you.
If the officer asks for your ID and/or proof of address, it is best that you comply with their request as quickly as possible and don't make any sudden movements. For instance, if they ask for an ID from you before getting back into the car with you, give it over immediately, so there aren't any problems when they get back in the car with you. The same goes for proof of address; if they ask for your address, give them your information quickly without hesitation or keep them waiting on hold on the phone while going off on a tangent about why they should listen to your story instead of going through their computer system.
What Happens if You Refuse to Stop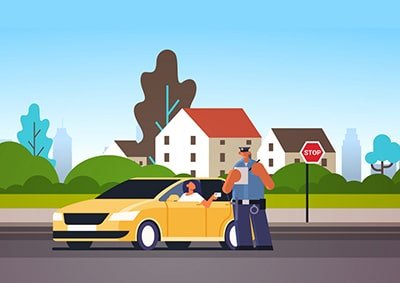 If you refuse to stop when a police officer stops you, this can lead to your arrest. Make sure that you stay calm and speak politely with the police officer if you are stopped for any reason. If you have anything illegal on your vehicle, do not resist when the police officers ask to search your bag or car. It's also important to know what the consequences of refusing to stop could be so that you don't put yourself in danger.
It would be best if you never refused to stop for a police officer because nothing could happen that would warrant it. This is especially true if there are no apparent signs of criminal activity and if you're driving legally and have a valid license plate. As long as you can produce identification, there is no need to worry about refusing to stop for a police officer in Canada.
What Happens if You Don't Have Identification on You
If you don't have identification on you, the officer may ask to see your ID. If you refuse to show your ID, or if the officer has a reasonable suspicion that you're trying to hide something, they will arrest you.
If the officer stops you and asks to see your identification, it's important that you don't delay releasing information. The more time goes by without giving the officer what they want, the higher the chance of getting arrested.
What Happens When Pulled Over in School Zones?
First of all, always be respectful and courteous to any police officer you encounter. They could be your friend or family member, so keep that in mind when interacting with them. If you're stopped by a police officer in a school zone, it's likely the officer will ask for your name, address, and license information. If you don't have the proper paperwork, they'll ask you to step out of your vehicle so that they can check your information. If you have the appropriate paperwork on hand, this process should be more straightforward for both parties involved. You're not required to say anything or answer questions if you don't want to unless there is a good reason why you would need to do so. In most cases, an officer won't take any further action if someone is pulled over in a school zone without a valid license plate or registration papers on the vehicle.
What Happens if the Officer Searches You?
The officer will ask you to step out of the vehicle. If you are asked to open one or more of your doors, do so and close them again once you have done so. The officer can pat down your clothing if he feels suspicious about your behavior or if you are someone who has been stopped before for questioning. Ensure that all items you have in your pockets are out, including cell phones and any other things like lip balm, gum, cigarettes, keys, etc. If the officer searches your car and finds an item that is not yours (drugs, weapons), then the person who owns that item will be charged with a possession-for-the-purpose-of-trafficking offense.
Final Words
If a police officer stops you, you must cooperate and identify yourself. If you refuse to stop, the police officer may arrest you. If you don't have identification on you, the police officer can still issue tickets or a warning to your vehicle. If a police officer pulls you over in a school zone and you do not have identification on you, they may give you a ticket or warn your vehicle. It is illegal to drive without proper identification in Canada. When a police officer searches your vehicle, they can only find evidence related to why the police stopped you. It is illegal to refuse to let the police search your car.