Quiz: Maintaining your vehicle
Familiarity with traffic rules can, especially the turning rules can, help in significantly reducing the number of road accidents. Here are some turning traffic rules that you should always observe while on the road.
If you are uncertain that any part of your vehicle is unsafe, you should…?
Have it checked immediately by a professional mechanic
---
Keep monitoring the issue regularly
---
Ignore it until something is definitely wrong
---
If your vehicle, equipment or trailer is declared unsafe by police officers or Ministry of Transportation inspectors, you may have to…?
Take it off the road immediately
---
Give an undertaking to have it repaired
---
Drive at lower speeds until it is repaired
---
Have it repaired within a month
---
You should check your vehicle to ensure that it is safe…?
You should never use tires on your vehicle that are more than what age?
The greatest danger of exhaust leaks affecting a driver comes during…?
Keeping your vehicle in a good state of maintenance will help you…?
Get a better price when you sell
---
Police officers and Ministry of Transportation inspectors have a right to check your vehicle…?
If you are driving erratically
---
If it shows visible signs of disrepair
---
Your tires must have a tread over 3 mm deep if your vehicle weighs more than…?
It is legal to use studded tires during winter in which part of Ontario?
Tires must be replaced when their tread is below…?
Share the quiz to show your results !
Subscribe to see your results
Maintaining your vehicle
I got %%score%% of %%total%% right
%%description%%
More Learning Options:
Car Maintenance Tips to Help Keep Your Vehicle in Good Shape
When you don't keep your car in good shape, the feeling that you get from driving a new car won't last long. Besides, a neglected car doesn't perform well, can be unsafe, and repairs are expensive compared to the cost of maintaining the car. On average, a car spends around 8 years on the road.
However, when you follow car maintenance tips regularly, it helps you to minimize running costs and keeps your vehicle on the road for many years to come. Moreover, maintaining your car isn't difficult. Here are some tips that you can follow to keep your car in good shape.
Change filters frequently:
There is no denying that the air filter and oil filter in your car get clogged over time. Hence, you must keep them clean. As part of regular car servicing, make sure that both the filters are cleaned well or replaced depending on their condition. Besides, you can prolong the life of the air filter by washing it regularly. However, never use cheap filters because that could damage your car's engine.
Look out for your car's tires: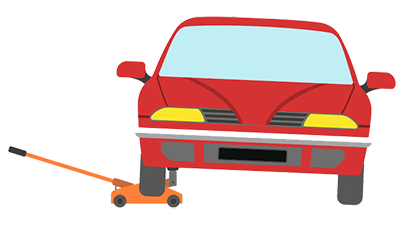 Maintaining the tire's pressure reduce wear and tear and helps your car get the best mileage. Check the tire pressure regularly to keep it in good shape. And, it includes checking the PSI, having the right air pressure, and so on. Overinflated and underinflated tires create massive problems and cause them to wear over time. Keep in mind that running your car on flat tires isn't a good idea. Moreover, you can rotate the tires every 4000 to 6000 miles. Hence, check the tires regularly and improve the condition of your car.
Maintain the car battery:
If you aren't using your car for a longer time, the car's battery will likely degrade and it will go flat in no time. So, if your car is left in the garage for some time or the battery doesn't hold charge than it used to be, consider using a trickle charger. That way, the car's battery remains topped up even when it isn't running. Besides, jump-starting a car puts strain on the battery along with the wire management and can damage delicate electronics. It is a good idea to drive at least once a week, especially during winter.
Remain gentle on the road:
Whenever possible, try to drive smoothly. Having sympathy for your car while driving is something that you should practice often. It means, using the controls of the car but being gentle on them and understanding how they work. As a result, it will reduce the component wear and help you save a lot on fuel expenses. When you accelerate and decelerate in a controlled manner, it will keep your vehicle in good shape.
Top up fluids as needed:
Fluids are important for your car and when you fail to replenish them, it brings you bigger problems. Therefore, check the oil levels often and replace them with a new one when the need arises. Besides, dirty, dark oil should be removed. The oil level should be anywhere between the maximum and minimum markers. Also, check the coolant reservoir and top up with fluid in the right proportion.
Get serious with your air conditioning unit:
It is wise to either use your air conditioning system in your car or get rid of it completely. The refrigerant gas tends to leak over time when you don't use the air-con regularly. While leaving them ideal can help you save fuel, the expenses for re-gassing the unit might be higher. Moreover, the vents could give your cool air during winter if the system isn't used properly at all times.
Replace spark plugs regularly:
Replacing high-tension leads and spark plugs can help optimize your car's performance to a great extent. A dirty spark plug gives you a hint about the condition of the engine. If the plug developed a gap between the insulator and electrode, it means that the engine is not performing well. Moreover, if the plugs have cracks on them or show heavy signs of wear, you should replace them.
Stick to a regular car maintenance schedule:
Regular servicing is the key element that prolongs your car's life and keeps it in tip-top condition. Investing in an annual servicing plan can save you a lot on repair bills while avoiding a stressful breakdown.