Each province state or territory in Canada has a different set of rules that apply during the driving test. It's important to familiarize yourself with the rules by reading the driver's handbook of your province.
Left turn lanes are not…?
Permitted for motorcycles
---
Left turn lanes are marked by…?
Share the quiz to show your results !
Subscribe to see your results
Left-turn lanes
I got %%score%% of %%total%% right
%%description%%
More Learning Options:
Left Turn Lane Rules: How To Make a Left Turn Safely
There are roads with specified lanes for the vehicles making a left turn. Turn from the marked lane at the intersection where the left-turn lanes have been marked on the pavement. Ensure you keep the above lane position when turning onto the other driveway. The center lane is used as a 2-way left-turn lane on some roads. This allows left-turning vehicles from the two directions to wait for the chance to make a turn without traffic holdups. Follow the following steps to use a 2-way left-turn lane: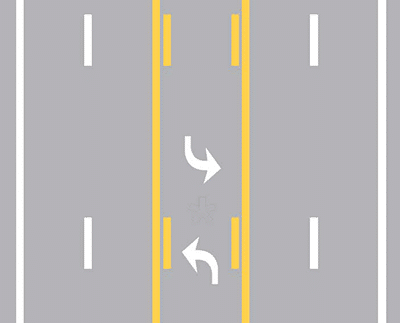 Signal properly and move to the center lane before making your turn, then slow down.
Move forward carefully to a spot opposite the driveway or road where you want to make the turn.
When the road or driveway is clear, make your turn.
Remember, vehicles approaching from the opposite direction use this lane to make a left turn. Seeing the incoming traffic may become hard as they stop waiting in front of you. Ensure you only go when the driveway is clear. Also, remember that you shouldn't use left-turn lanes for passing.