Quiz: In a collision where someone is injured
Practice tests are crucial before sitting for the Ontario G1 test. Note that for safe riding, You should equip yourself with skills and knowledge.
The best way to deal with a bleeding wound is…?
You should contact the police when a collision has occurred if…?
Vehicles have been seriously damaged
---
If you are involved in a collision, you must…?
Remain at the scene if anyone is injured
---
Remain at the scene if damage over $2000 has occurred
---
Remain at the scene unless you don't wish to make a claim on your insurance
---
It is mandatory to contact the police after a collision if anyone is injured or vehicle/property damage looks likely to exceed…?
It is recommended that first aid kits should be carried by…?
Any medically qualified driver
---
Any driver who has been on a first-aid course
---
Anyone driving on a high-speed highway
---
You should only move injured people after a collision if…?
There is a danger of fire
---
They are impeding traffic
---
Their injuries don't appear serious
---
They tell you they are alright to move
---
If you see a collision but were not involved in it, you should…?
Check if anyone needs assistance
---
Find an alternative route
---
Only get involved if asked
---
Share the quiz to show your results !
Subscribe to see your results
In a collision where someone is injured
I got %%score%% of %%total%% right
%%description%%
More Learning Options:
What Should You Do If Someone's Injured in a Car Accident?
When you learn how to drive a car, you feel good about yourself. However, every reference will tell you that driving lessons come with being aware of what to do in an accident. Accidents happen very quickly, and you may experience them while driving. If your new car breaks down, you could also get hurt.
If you're a new driver and you don't know what to do when someone is hurt in a car accident, make sure you know what to do through this article.
Stay Active and Make Your Report
May it be you or your passenger who got injured, you need to stay awake and do your report. It is critical to alert law enforcement about an accident immediately after it occurs. First of all, that way, the authorities will be able to run investigations, including interviews and documentation fastly.
They will also know immediately who's at fault in an accident. Without reporting what happened, you will be in a tight situation with less credible proof. If the other driver says that it's your fault, even if it's not, you'll be in the wrong position and get higher chances of losing.
More than that, the authorities will send emergency ambulances that can treat the injured party. You need to trust and report everything to the authorities for the most part.
Get Medical Attention Immediately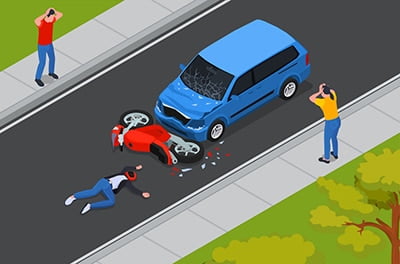 If you or your party has been injured, medical attention should be called immediately. You shouldn't worry much about how much things will cause afterward because safety is your top priority. It is also a way for your insurance company to consider the injuries and compute rightful compensation after that.
Insurance companies may take advantage of the fact that you didn't seek medical treatment immediately by believing that you were not injured. Even if your party got injured, medical attention is a must. Always remember this part and never make this mistake.
Give a Detailed Injury Description
Initial treatments are often done immediately, so healthcare practitioners will only ask questions to give you the proper treatment. Hence, you should provide a brief yet detailed description of your injury. "Where does it hurt" "How much does it hurt" "How you are feeling" answering those questions clearly will help both of you and the medical providers.
Even the slightest pain you're feeling right at that moment should be mentioned because it may intensify over time and be left untreated. Aside from that, the documents of injuries provided by medical teams will be used to evaluate your claims about injury afterward. It is essential to prove that you shouldn't miss it.
Get a Thorough Diagnostic Test
While you or your party is receiving treatment, make sure to request and get the important examinations and diagnostic tests later. Make sure that all the injuries taken from the accident are wholly documented. Don't worry too much about the expenses because health is more critical.
There will be doctors who may say that you don't need a diagnostic test, but you should be responsible enough to know if you're injured or not. Diagnostic tests that will help you include MRIs, x-rays, scans, and other examinations. Do not makeup stories and just get through the diagnostic test thoroughly.
Conclusion
During accidents, there may be times when insurance companies will ask for your statements, but you should never give them to them until the authorities finish evaluating your situation. Remember that your statements are solid proofs that may or may not be used against you.
For the most part, you should drive carefully and always be active. You can prevent accidents by being aware of these.