Quiz: If you have trouble on a freeway
Every person who drives a motor vehicle on the roads of Ontario must first secure an Ontario driver's license. 
If someone offers to help you when you are broken down on the freeway, you should…?
Ask them to call police or breakdown services for you
---
Get out and discuss your problem with them
---
Restart your vehicle to get away
---
If you realise something is wrong with your vehicle when driving on the freeway, you should…?
Get off the road immediately
---
Continue to the nearest exit
---
Drive slowly in the far right lane
---
Drive with your hazard lights on
---
If you have to stop at the side of the freeway, you should…?
Stay in your car with the doors locked
---
Walk on to the nearest exit
---
Stand on the shoulder to flag down help
---
Sit on top of your car so you can be seen
---
Share the quiz to show your results !
Subscribe to see your results
If you have trouble on a freeway
I got %%score%% of %%total%% right
%%description%%
More Learning Options:
What Should You Do if Your Car Breaks Down On a Freeway
In Ontario, drivers who find themselves in such a situation cannot be fined by the police if their car breaks down. However, they should take reasonable precautions to avoid deficits and dangers. For example, you must turn on your four-way hazard lights and place an orange triangle behind your vehicle to warn others of broken-down cars. People are also prohibited from parking their vehicles on the right side of highways unless they go in the opposite direction.
What Should You Do if Your Car Breaks Down On The Highway
Stay calm
Panicking will only make the situation more dangerous, and a breakdown is not an emergency. You can help by staying as calm as possible and staying in your car until you assess the damage- unless you smell exhaust fumes or notice flames, in which case it's much safer to move to safety outside.
Stop the car safely
If the engine is still running, you should carefully pull over to the shoulder. Turn on your hazard lights and put up your warning flares- it's very important to alert other drivers that there are problems at this location. Making sure you don't block any lanes of traffic is also important for safety reasons.
Call for help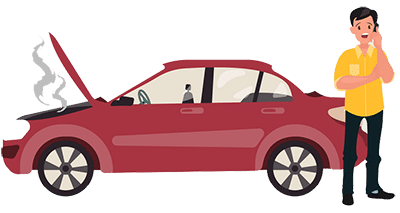 You should call for roadside assistance if the car still won't start, if you need to leave your car, or there are any other safety concerns. This is probably the most important step when it comes to dealing with a breakdown- you don't want to be stuck on the side of a busy highway where there are no other people around.
Wait for help by staying out of the way
When help arrives- be it a tow truck or another driver offering to help- you should stay as far away from traffic as possible and avoid any unnecessary interaction with oncoming motorists. This will allow your car to be towed safely and reduce the risk of injuries from distracted drivers.
Get towed, don't drive
While some people may think they can drive the car to a repair shop after their engine refuses to start, it's not recommended that you do this. Driving with safety issues is very dangerous- and if the problem is related to your engine, more damage could be done during transit.
Stay calm
Many people can help- tow truck drivers, other motorists who may know how to fix the car or whose cellphones can call for help if they don't have a phone of their own. You might also try to find a place where you can sit in the shade. If you find yourself in this position, it's important to stay calm and keep your cool.
Take care of yourself
Your safety is important in this situation, so it's good to keep that in mind when you are stranded on the side of the road. You should eat, drink water, and do anything necessary to manage your health- even if you have to do so outside of your car.
Conclusion:
After your car breaks down, it's essential to be prepared for anything that might happen. Getting stranded on the side of a busy highway can feel scary- but knowing what you should do when it happens will keep you safe until help arrives.