Quiz: High Occupancy Vehicle (HOV) Lane
It should be your aim to pass the Ontario G1 test with flying colors keeping in view the fact that you are aware of all the rules of driving, and thus, you could be a better and safe driver.
Commercial vehicles cannot use an HOV lane if they exceed what length?
Which of these vehicles can use an HOV lane even if they are only carrying one person?
Vehicles with green license plates
---
High Occupancy Vehicle lanes are normally designed for vehicles carrying…?
Ordinary traffic lanes are usually separated from HOV lanes with…?
Share the quiz to show your results !
Subscribe to see your results
High Occupancy Vehicle (HOV) Lane
I got %%score%% of %%total%% right
%%description%%
More Learning Options:
High-Occupancy Vehicle (HOV) Systems
A High-Occupancy Vehicle (HOV) lane is a special lane set up for use by certain types of vehicles with a stipulated number of occupants. HOV lane can significantly reduce the travel time for those that opt to carpool or take transit. Compared to the general traffic lane, HOV lanes can move a considerable number of people while promoting carpooling and transit use by offering reduced travel time and a more dependable trip time. HOV lanes are operational 24 hours a day, 7 days a week.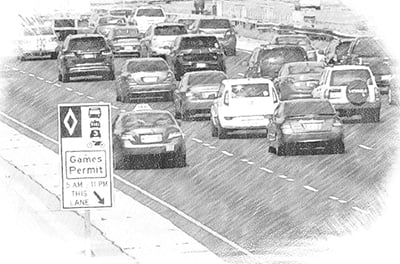 HOV lanes are beneficial not only to drivers who carpool but to all drivers. They benefit the drivers in the following ways
Bolsters highway infrastructure by ferrying more people in lesser cars
Eases the congestion on the road by limiting the number of cars on the road
Decreases the overall emissions and enhances the quality of air
Helps drivers preserve the fuel save on costs by distributing the cost of driving
Eases stress on drivers: Allowing a third party to drive or take turns offers you an opportunity to relax on your way to work.
Reduces the time taken to travel from one destination to another due to the reduced number of vehicles on the road
Save Money. It costs much lower to travel on a bus or to share a ride than to drive personally on a daily basis. Routine carpooling can reduce your fuel expenses by around 50%.
Support electric vehicles. Vehicles featuring green license plates in Ontario are permitted on all provincial HOV lanes, regardless of the number of passengers on board.
HOV lanes on provincial highways are set aside for vehicles with two or more occupants. It can be a driver plus one or more passengers in passenger vehicles, such as motorcycles, minivans, cars, buses, and pickup trucks.
The HOV lane is distinguished from the rest of ordinary traffic lanes by a striped buffer zone. It is outlawed and risky to go beyond the stripped buffer pavement markings.
HOV lane rules do not apply to all vehicles. For instance, certain vehicles like buses can use HOV lanes at their convenience, irrespective of the number of passengers on board. Emergency vehicles, such as ambulances, police, and firefighters, are exempted from HOV lane rules.
Failure to use HOV lanes appropriately can cause one to be stopped by a traffic officer and get charged with a traffic offense. You will be directed to re-enter the standard lanes at the immediate entry or exit point in such a case. So, ensure proper use of the HOV lane to avoid being penalized and forced to exit the lane and rejoin the general traffic lanes.
To be allowed in the HOV lane, commercial motor vehicles need to have not less than two passengers on board and not more than 6.5 meters in overall length. Also allowed in the HOV lane are airport limousines and single-occupant taxis. Vehicles containing "Green" license plates are also authorized to use the HOV lane regardless of the number of passengers on board. Also, issued with green plates are hybrid electric vehicles eligible for plug-in and full battery electric vehicles.