Quiz: Ontario Traffic Rules 4
If you do and pass ourG1 test practice quiz, you are fully equipped to pass the official G1 written exam. We are confident of this from the tons of comments we receive from learners who have passed the official exam after taking our practice tests.
What to do if your vehicle's brakes fail while driving?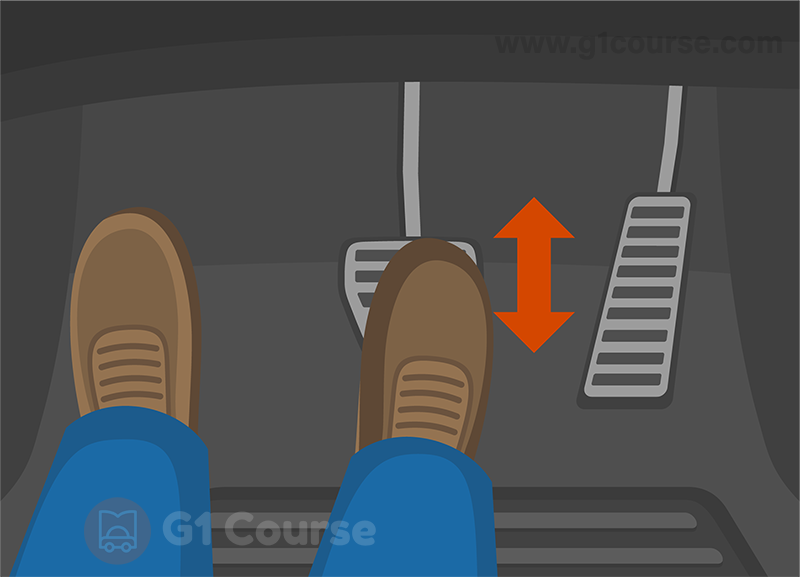 Pump the brakes rapidly and shift into a lower gear
---
Press on the brakes as hard as possible until they re-engage
---
Use the emergency brake and honk loudly to warn other drivers while looking for a soft collision point
---
Wave down the nearest police officer and shout for help
---
At any intersection where you want to turn left or right…?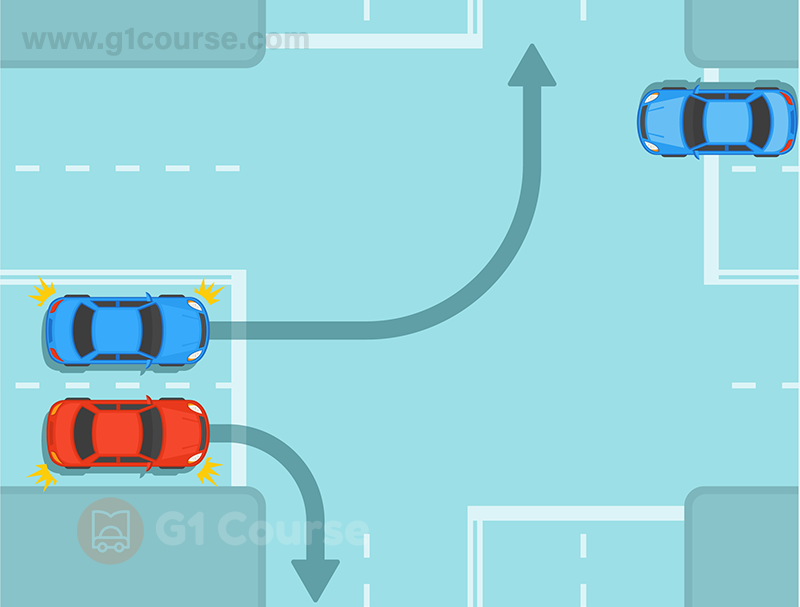 If you are turning left, you must wait for approaching traffic to pass
---
If you are turning left or right, you must wait for pedestrians to cross
---
If you are turning right, you should check your blind spot for cyclists approaching from behind
---
Why drivers fail the road test in Ontario?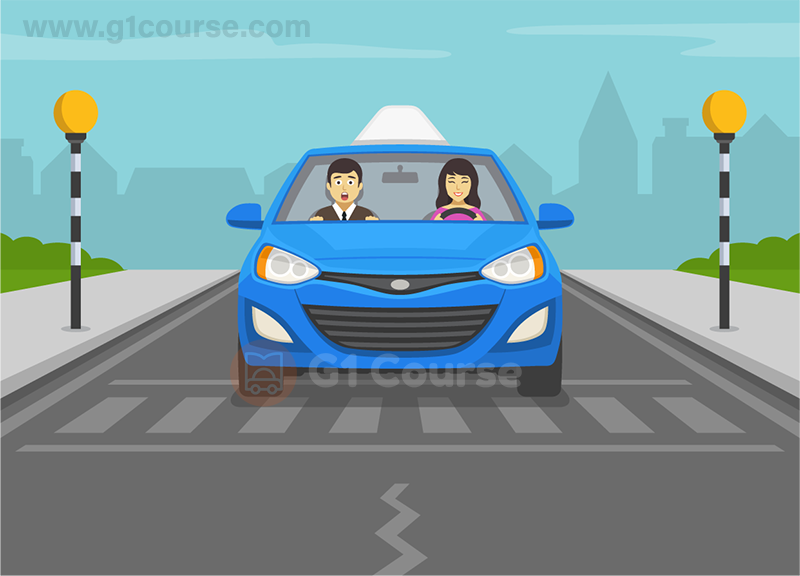 Lack of skill and control
---
Difficulty obeying traffic laws
---
If your cell phone rings while you're driving…?
Pull over and park to use your cell phone
---
Have a passenger take the call
---
Special passing or climbing lanes let slower vehicles move into the right-hand lane so that faster ones can pass safely in the left lane.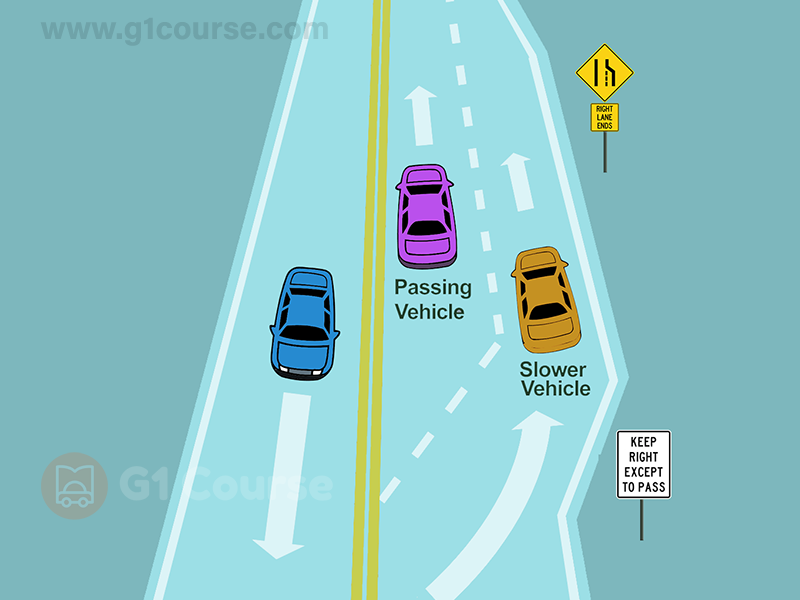 What should you do if you get stuck or stranded in the snow?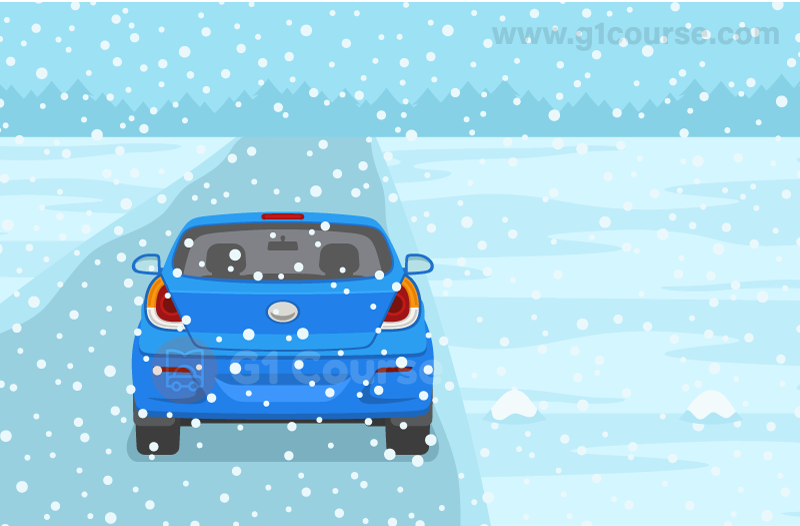 Run the vehicle's engine no more than about 5 minutes every hour to stay warm while avoiding carbon monoxide poisoning
---
Get out of the vehicle and begin walking to get help
---
Keep the engine running so that people in the vehicle will not freeze
---
Build a fire for warmth and to signal for help
---
Hydroplaning can cause vehicles to skid. The term "hydroplaning" occurs when: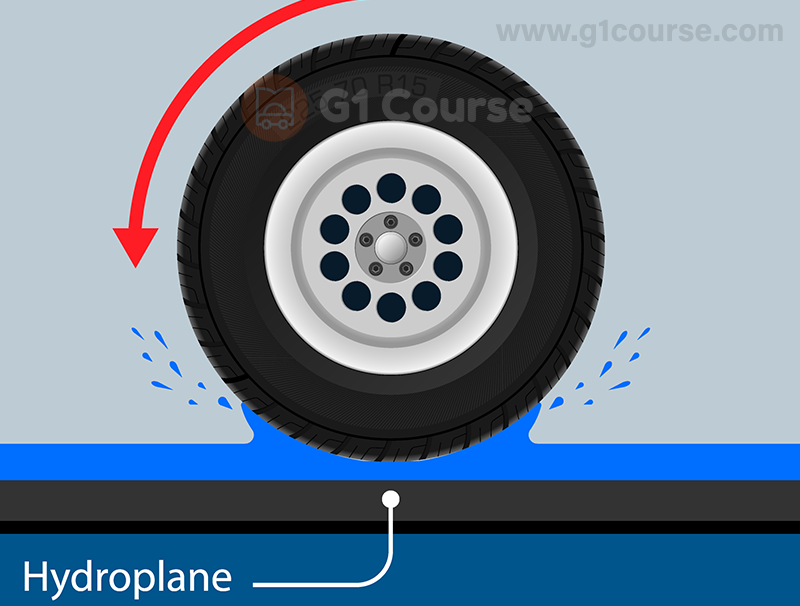 The vehicle's tires ride on top of the water, as if they were water skis
---
The vehicle develops a flat tire
---
The vehicle encounters black ice on the roadway
---
The vehicle's tire pressure is too high
---
If a front tire goes flat, the vehicle will pull strongly to: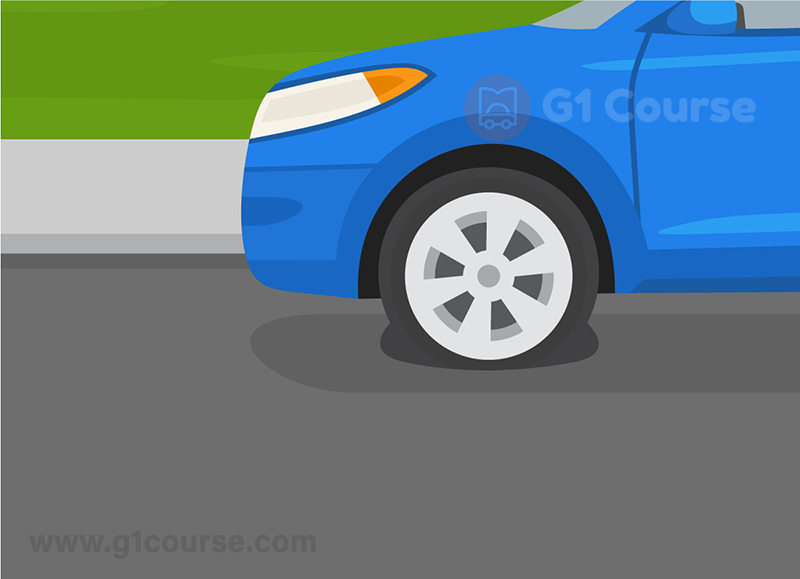 The side that has the flat tire
---
High Occupancy Vehicle (HOV) lanes on provincial highways are reserved for vehicles with how many occupants?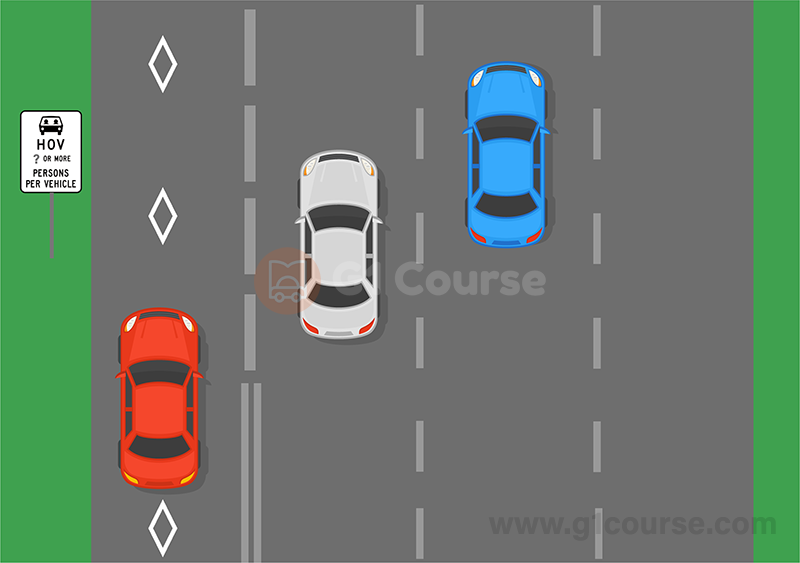 Minimum of two people per vehicle
---
Any vehicle that is travelling above the posted speed limit
---
On roads that have a median, when must drivers stop for school buses?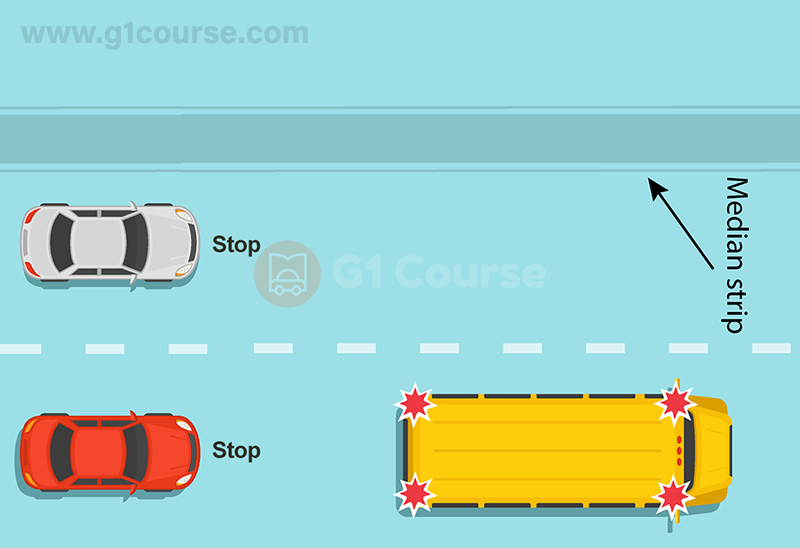 When behind a stopped bus which has its upper red lights flashing
---
There is no need to stop on roads with a median
---
Upon every approach to a school bus
---
The hand-and-arm signal for left turn is indicated by: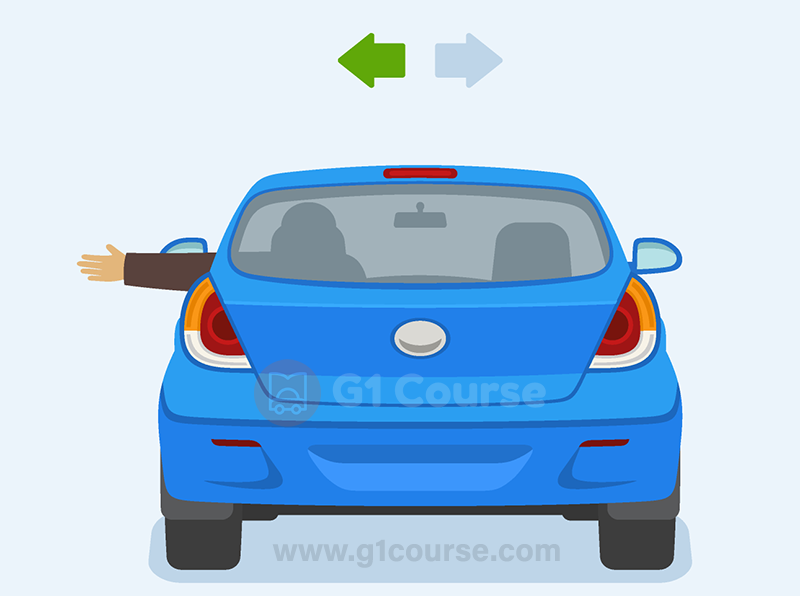 Arm straight out the window
---
Circular motion of the arm
---
The centre lane of some roads is used as a ….?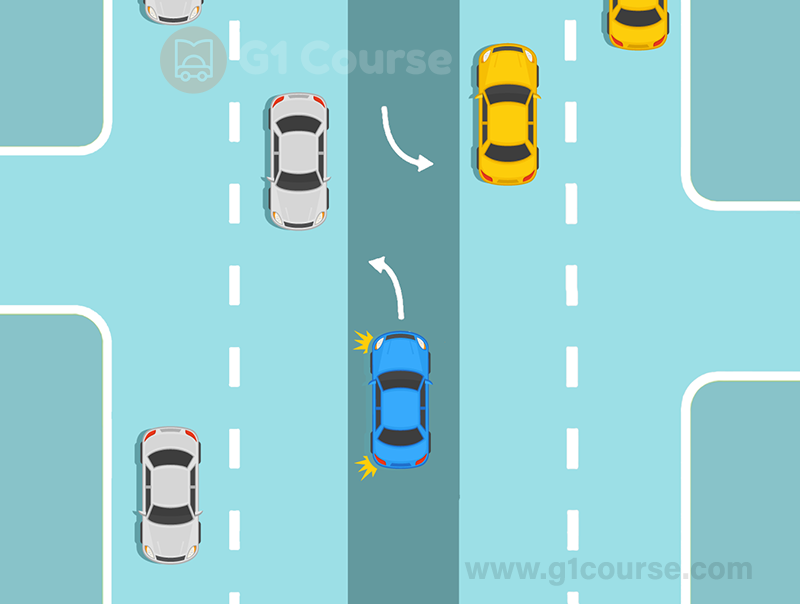 Drivers licensed under the Graduated Driver License Program are restricted from operating a vehicle: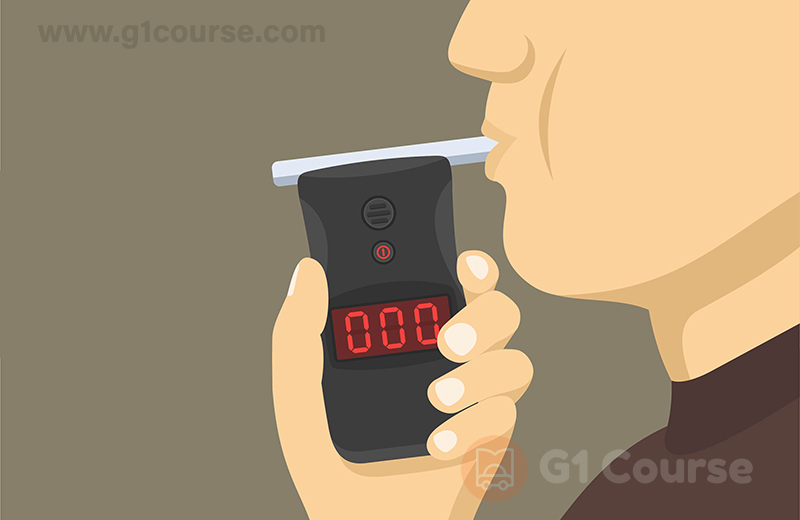 when any amount of alcohol has been consumed
---
with a blood alcohol level over .08 %
---
Two solid lines painted on the pavement…?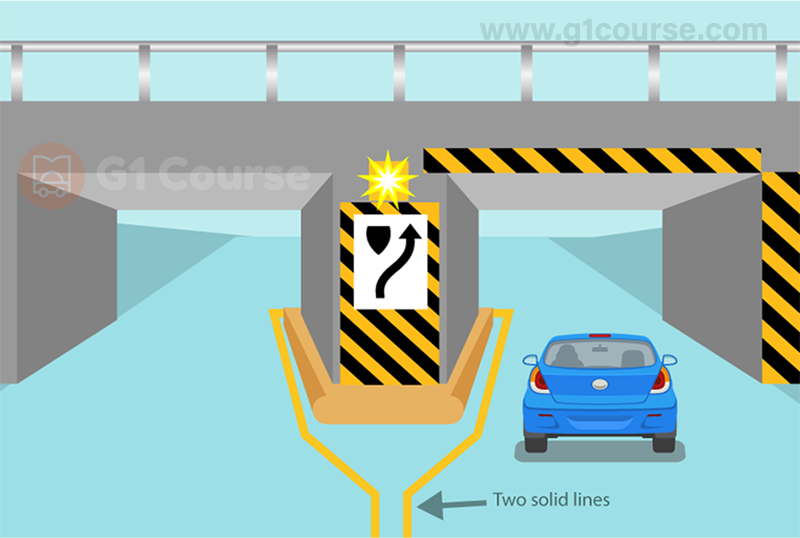 Guide traffic away from fixed objects such as bridge piers or concrete islands
---
Stop before the lines and yield to pedestrians
---
It means the lane you are in, is ending or exiting and that you must change lanes
---
If you are reversing straight back or to the right…?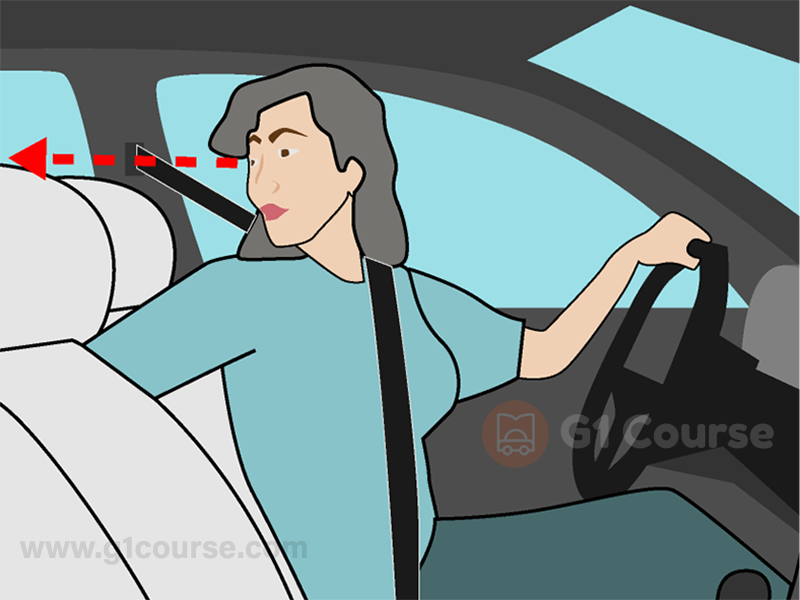 Turn your body and head to the right and look back over your right shoulder
---
Turn your body and head to the left and look over your left shoulder
---
Look in your left side mirror
---
Look in your right side mirror
---
When may you pass on the right shoulder of the road?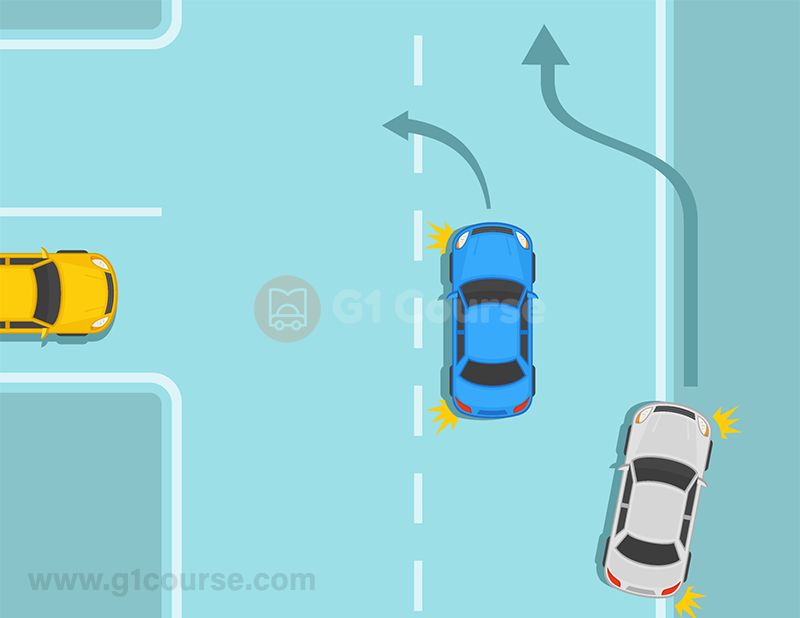 Only when passing a vehicle turning left and only if the right shoulder is paved
---
Whenever it can be done safely
---
At any time a vehicle is turning left, even if the right shoulder is unpaved
---
How many meters in both directions must drivers be able to see to make a legal U-turn?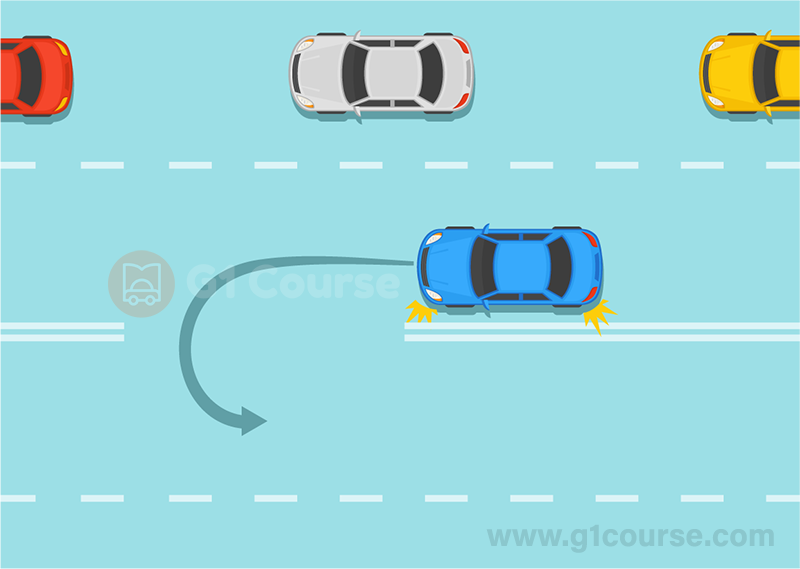 Who has the right of way in a roundabout?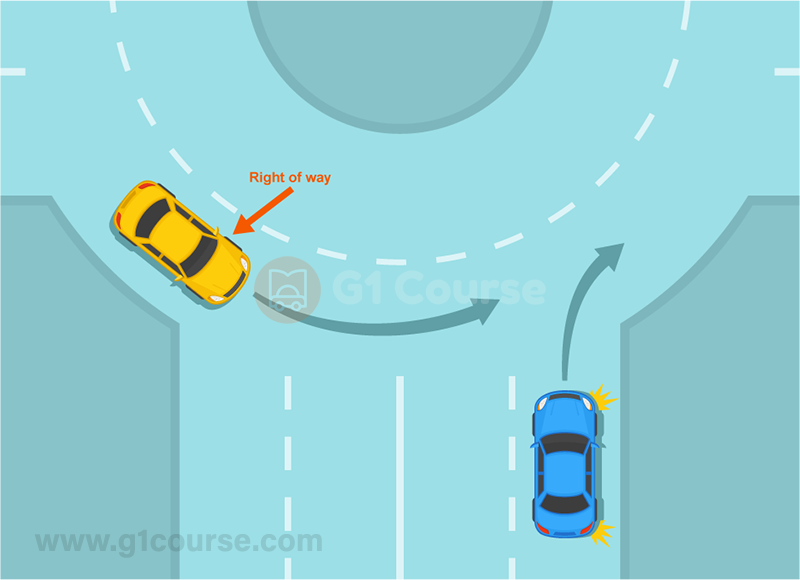 A driver already in the roundabout
---
A driver approaching the roundabout
---
A driver turning right into the roundabout
---
A driver turning left into the roundabout
---
The fine for not using a child car seat or booster seat as required by law is…?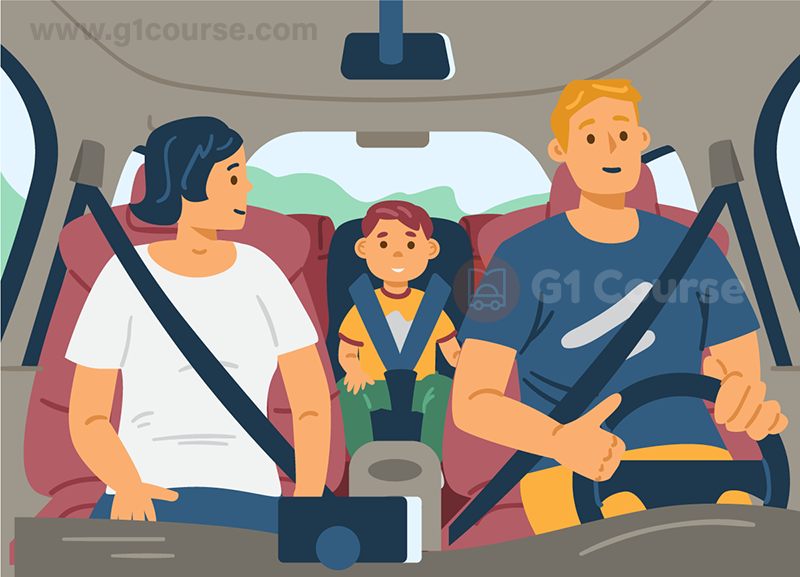 Up to $1,000 plus two demerit points
---
Up to $500 plus three demerit points
---
What is the minimum following distance drivers must maintain from an emergency vehicle that has its lights or sirens on?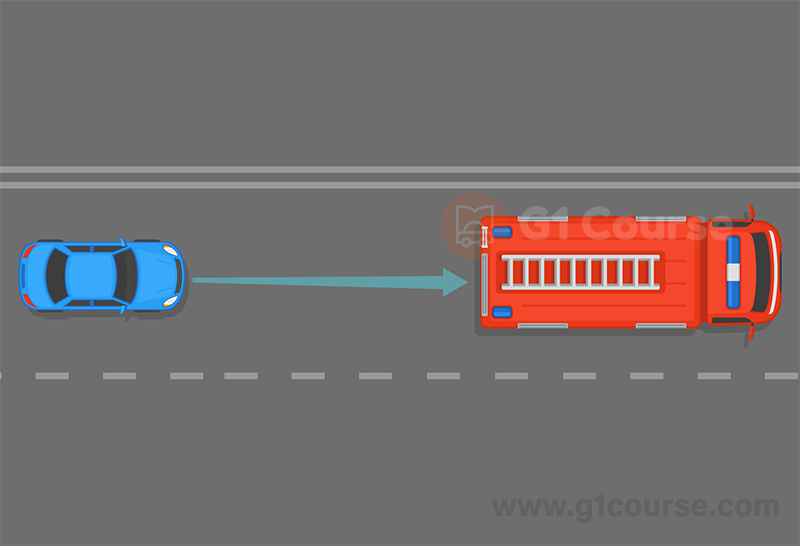 When parking uphill at a curb…?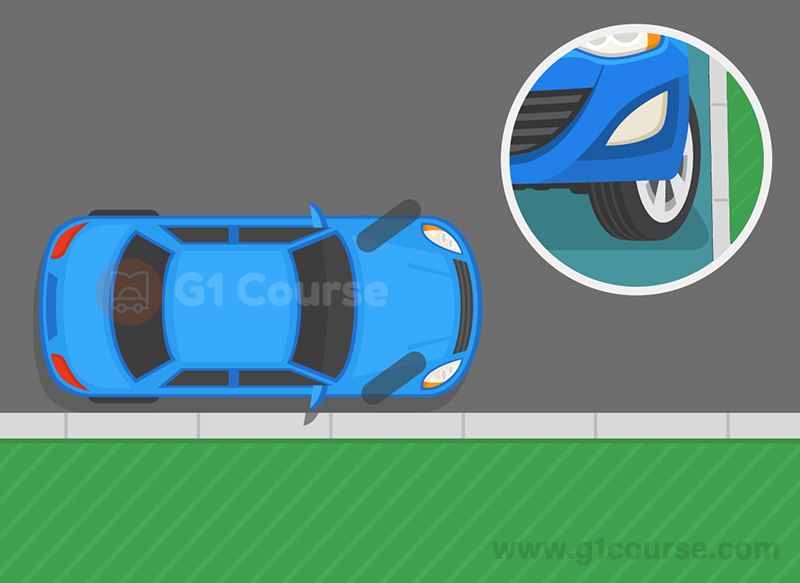 Turn the steering wheel to the left
---
Turn the steering wheel to the right
---
The front wheels must be parallel to the curb
---
The direction of the wheels doesn't matter as long as the parking brake is set
---
As you approach the curve….?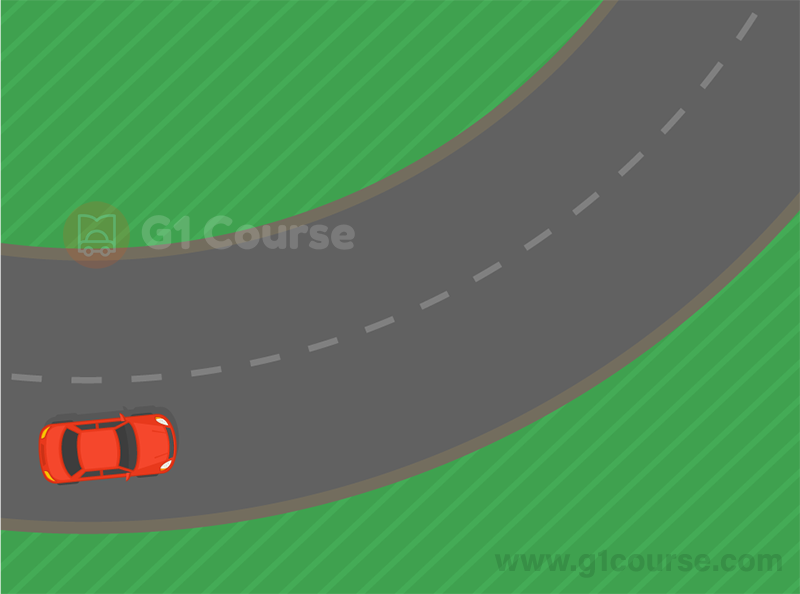 Try to determine the safe speed for it
---
If you are reversing to the left…?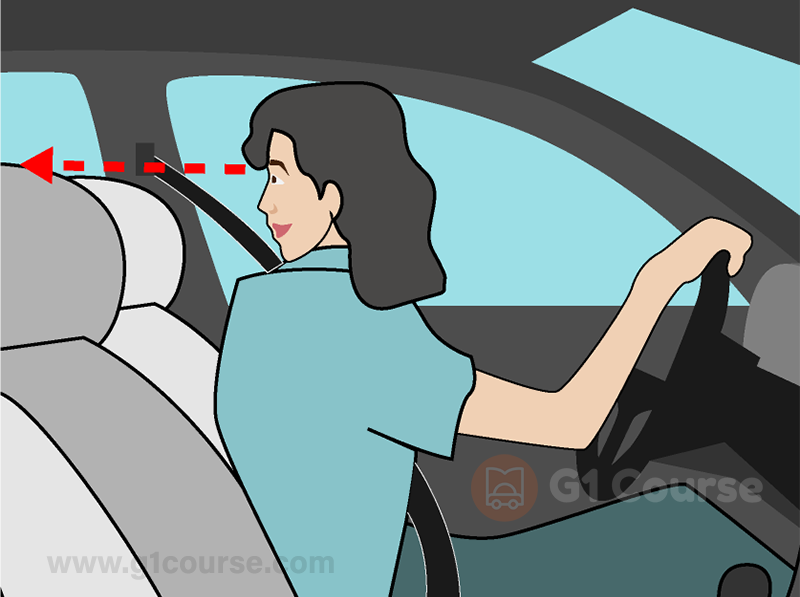 Turn your body and head to the left and look over your left shoulder
---
Turn your body and head to the right and look back over your right shoulder
---
Look in your left side mirror
---
Look in your right side mirror
---
At an intersection where left-turn lanes are marked on the pavement….?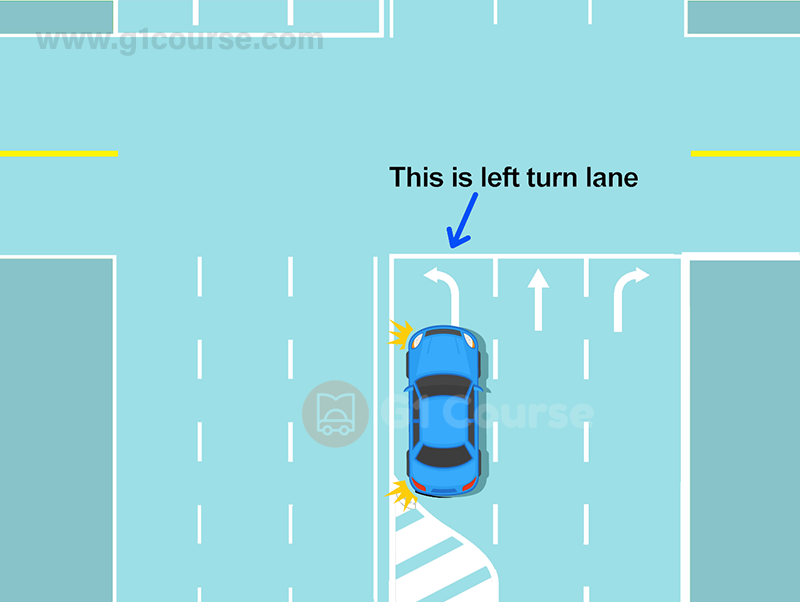 Make your turn from the marked lane
---
Does not matter, provided you signal
---
You can use it to pass slower traffic
---
You can use it to park your car
---
What does a white arrow painted on a lane means?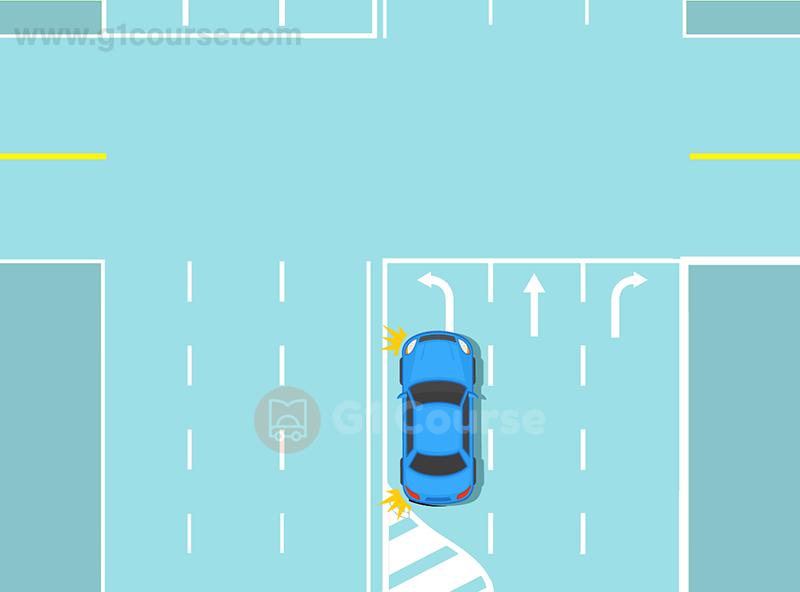 You may move only in the direction of the arrow
---
Stop before the arrow and yield to pedestrians
---
Move to the far left or far right lane as soon as the way is clear
---
It shows where you must stop
---
A three-point turn starts from the ___________ of the road.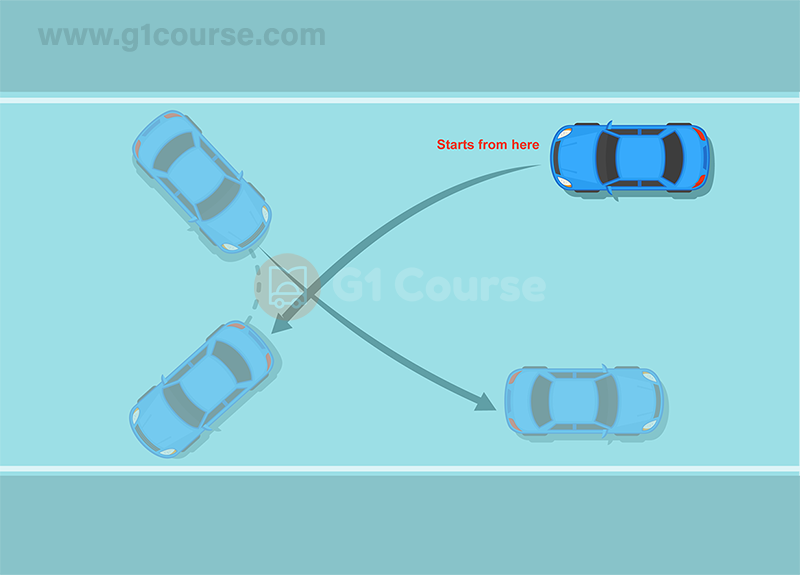 What does it mean to 'overdrive' your headlights?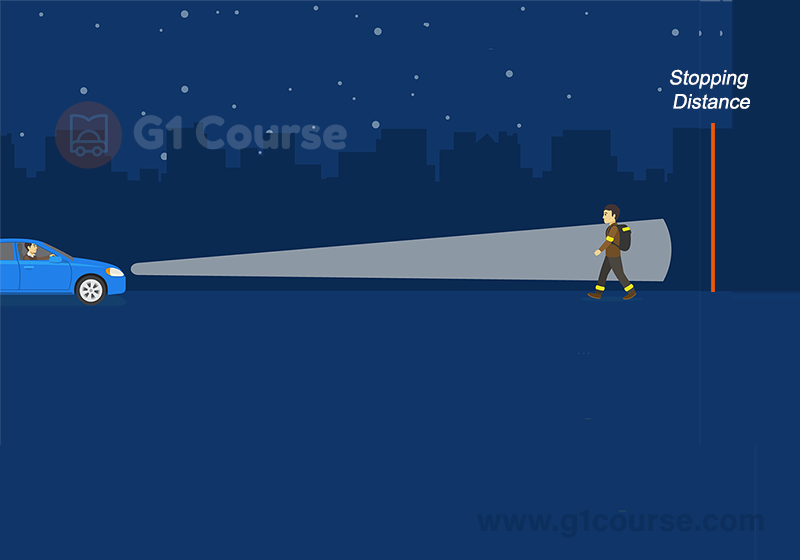 It means that drivers are going so fast that their stopping distance is farther than they can see with their headlights
---
It means that drivers are using their high beam headlights all the time
---
It means that drivers are overworking their headlights, increasing the likelihood that the bulbs will burn out
---
When driving on a highway near an exit ramp, what should drivers do if there are continuity lines to the right of their lane?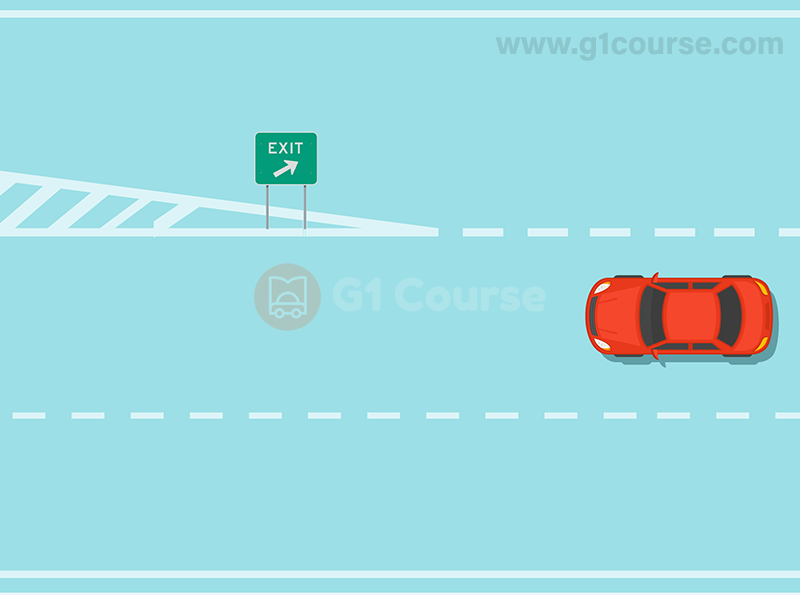 They are not required to do anything unless they want to exit; the lane is unaffected
---
They must merge with the traffic to their left
---
They must merge with the traffic to their right
---
They must exit because their lane is ending
---
How many demerit points will be recorded against a driver's license if the driver fails to remain at the scene of a collision?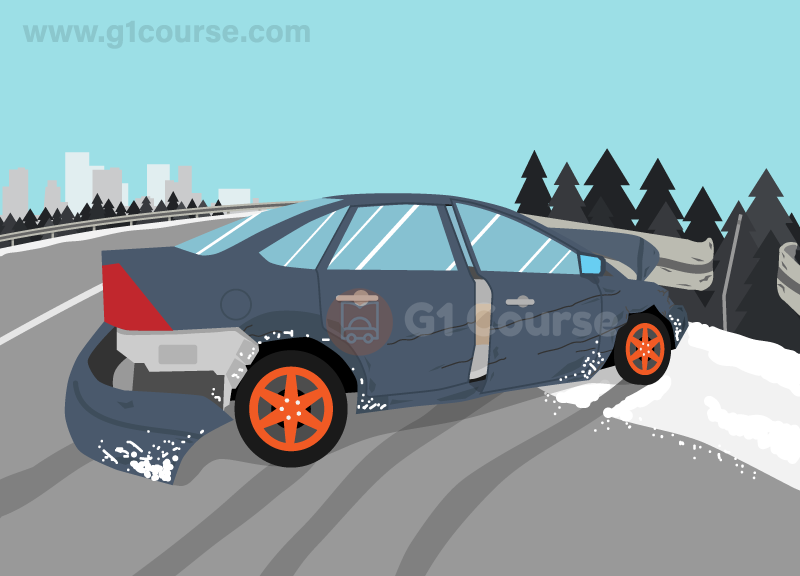 When you make a left turn from a one-way road into a one-way road, you must…?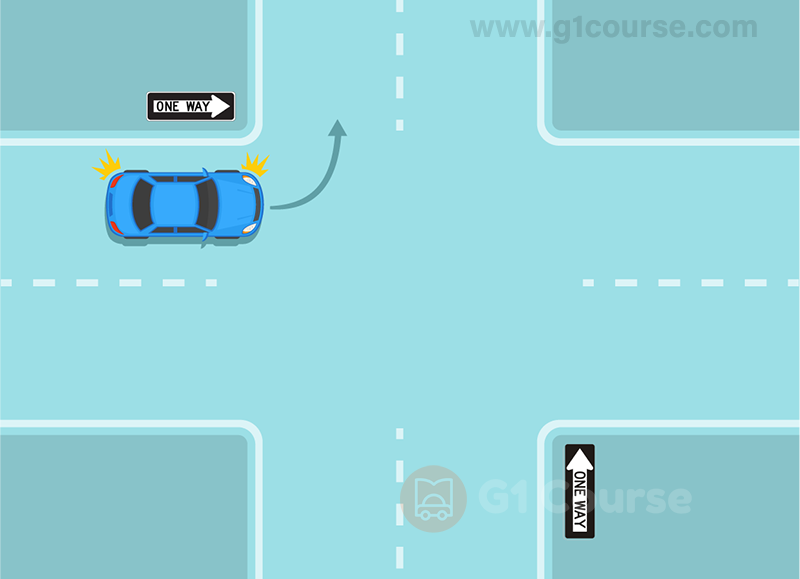 Turn from the left curb lane to the left curb lane
---
Turn from the right curb lane to the left curb lane
---
Turn from the left curb lane to the right curb lane
---
Turn from the right curb lane to the right curb lane
---
Share the quiz to show your results !
Subscribe to see your results
G1-Rules4
I got %%score%% of %%total%% right
%%description%%
More Learning Options:
Importance Of Obeying Traffic Laws - Learn With G1 Test Practice
More than 1630 people lost their life in Canada in the year 2019 alone due to vehicle collisions. There were approx. 8900 serious injuries due to vehicle collisions in the same year in the country. The World Health Organization reveals that more than 1.3 million people lose their lives every year due to vehicle/traffic collisions on the road. Half of these people are cyclists, pedestrians, and motorcycles who are more vulnerable to serious injuries and fatalities in a vehicle collision.
Traffic laws not only protect you but also other people (including those who are more vulnerable to facing grave consequences) in an on-road collision. You can prevent minor and major crashes on the road by knowing and following the traffic laws and the rules of driving, practicing the appropriate driving skills, and taking care of your vehicle and the things around you when you are using the road. Most road injuries can be prevented by following traffic laws, signs, and rules.
Governments worldwide strive to take appropriate action for addressing road safety. Apart from the police and the regulatory bodies, the involvement of other sectors including education, health, and transport can also address the safety concerns of the vehicles on roads and the road users. Below are some important points that will help you know why traffic laws are so important.
Reduce and Prevent Injuries and Accidents
The first purpose of traffic rules and traffic laws is to prevent accidents and ensure the safety of those using the roads. Road users and vehicle drivers are at risk on the road due to many kinds of dangers and obstacles. Traffic-related safety signs can mitigate many traffic risks and prevent accidents. For instance, the "give way" signs, "stop" signs, as well as the "limit" signs can control the traffic flow and help you avoid accidents.
Communication and Consistency
Many traffic laws and signs are the same across the world. For instance, the "stop" signs are "red" color while the "go" signs or of "green" color everywhere. The easy communication and consistency of traffic rules in multiple states of a country or distinct parts of the world ensure that drivers everywhere can decipher the same meaning of the signals. Traffic laws and traffic rules and signals prevent confusion on the road, thereby preventing accidents. The traffic laws help users know the right action they should take in a particular circumstance while driving on road or using it.
Providing Directions
Traffic rules and signs can provide you with the right directions to help reach your destination safely and conveniently. The directional signs, milestones, and street signs help you find your way easily. These signs are placed on the roads in an appropriate way and in locations so that you can have a look at them and keep on driving your vehicles safely all at the same time. Therefore, traffic laws and rules can reduce the stress that drivers may face.
Knowing the "Not-So-Obvious" or "Unknown" Obstacles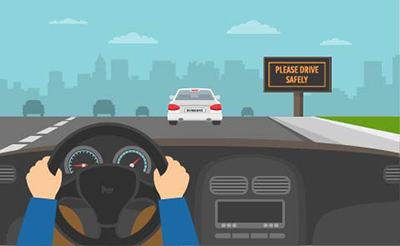 The traffic signs can help drivers know more about even the unknown obstacles that may lie further ahead on the road. Sometimes there may be blind spots on the road. At other times, the obstacle may not be visible in a plain and normal view. The traffic signs help drivers adjust their driving and safely cross obstacles. For instance, a traffic sign may reveal to you that there is a "U/Dangerous Turn" or a "narrow road stretch" ahead so that you can reduce your speed at an appropriate time and prevent an accident and injury.
Managing Traffic Flow
With thousands and thousands of vehicles being added to roads every year, it is important to manage the traffic flow to reduce accidents and injuries and to ensure that everybody can reach their destination comfortably in the least time. Traffic laws, traffic rules, and on-road signages and traffic lights can manage heavy traffic.
Safety of the More Vulnerable
Pedestrians, cyclists, and motorcycles may be more vulnerable on the road when compared to those who are driving a four-wheeler. The traffic laws and signs, including Zebra/pedestrian crossing and the traffic lights, can ensure the safety of those who are using the road on foot or who are trying to cross a road and want to reach the other side of it.
Help you Prevent Penalty/Fines
Traffic laws are mandatory for everybody and should always be followed when you are using a road. If you are caught violating traffic laws and rules, you may face a penalty and pay a fine for traffic violations. The traffic laws ensure that everybody learns how to use a road most safely.
The Important Rules of Road Safety
Below are some general yet important rules of road safety that you should follow to prevent accidents and injuries.
Keep your vehicle serviced regularly and well-maintained so that it never undergoes a sudden breakdown. Sudden vehicle breakdowns may cause accidents.
 
Keep your vehicle on the right side of the road in the appropriate lane (depending on the speed limit). You should always allow the people on the other end of the road to cross it safely. Permit the automobile on the back of your vehicle to go further and beyond when you get the opportunity.
 
When you are entering a new road, follow the road signs, and keep your vehicle on the same side.
 
Always reduce the vehicle speed when you reach a turning point. Also reduce the vehicle speed at road endings, blockages, crossovers, zebra crossings, during overtakes, and in other similar instances.
 
Never forget to use your helmet as it can help you prevent serious injuries to the head and other injuries.
 
Do not illegally park your vehicle. Apart from causing fines, illegal parking of a vehicle may also cause accidents. Do not park a vehicle on the main road, close to the pedestrian passage, in overcrowded areas, or in a way that may interfere with the passing of vehicles. Vehicles should also not be parked close to a traffic light or at the doorstep of an organization.
 
Avoid excessive use of horns as they can cause noise pollution. The horns of your vehicle are only to be used when needed and during essential circumstances.
 
During driving do not get too close to the vehicle in front of you. Surveys reveal that many accidents occur when there is extraordinarily little distance between two vehicles. For instance, if the vehicle in front of you may apply brakes and stop suddenly, it may cause an accident. Appropriate distance should also be maintained with the vehicles on the sides or the back.
 
Try avoiding applying the brakes instantaneously and suddenly. While sometimes you must apply the brakes suddenly, try to use them gradually when you can. It will prevent an abrupt stop and injury. Other vehicles will also get enough time to respond appropriately when you apply the brakes gradually.
 
Always follow the traffic signals, traffic rules, and directions given by traffic police. It can help you prevent accidents and keep the road safe for all users.
 
Always take a U-turn after looking at the traffic behind you. Give appropriate signals before you take a U-turn so that the other users can understand your move. Do not take a U-turn when it is prohibited.
Conclusion
Traffic laws, rules, and signs are important for the road safety of everybody on the road. Always follow them to avoid accidents, ensure the safety of everybody on the road (including the more vulnerable), avoid fines and penalties, and reach your destination safely and conveniently. You can also find these rules in our G1 test practice quiz provided in our G1 practice test section.