Quiz: Fasten your seatbelt
The MTO driver's handbook provides information on the examination procedures and rules of the road which include visual search, turns, parking, occupation protection, traffic controls, vehicle position, sharing the road, and how to react during special driving situations.
Drivers can be sanctioned if a passenger is not properly restrained and is under the age of…?
Properly fastened seatbelts are compulsory for…?
All people in the front seats
---
If you are found driving without a seatbelt you can be fined and have how many demerit points on your license?
If your vehicle has airbags, which of these applies?
Everyone must wear a seatbelt
---
Only the driver needs a seatbelt
---
Seatbelts become optional
---
Small children must be…?
Placed in car seats/on booster seats
---
Held in parent's/carer's arms
---
Restrained with a seatbelt
---
On which of these is it permissible to travel without being secured with a seatbelt?
The lap part of a seatbelt should sit where?
Level One (G1) drivers can only have what type of person in the front passenger seat?
If a novice driver drives a vehicle that does not have a working seatbelt for all their passengers they will forfeit their license for a minimum of…?
Share the quiz to show your results !
Subscribe to see your results
Fasten your seatbelt
I got %%score%% of %%total%% right
%%description%%
More Learning Options:
Why Should You Wear A Seatbelt?
Safety devices play a critical role in your life. Several accidents occur daily, but proper use of safety restraints has been proven to save numerous lives. It is critical to recognize the benefits of wearing a seatbelt. In reality, riving on an open road at high speed can be thrilling and can offer you an adrenaline rush. However, you should not risk your life by avoiding wearing a seatbelt. Here are the reasons why you should wear a seat belt.
Save Time and Money By Avoiding Accidents
Accidents are the leading cause of death in the United States. They are also a huge cause of stress and anxiety for drivers, especially when they happen on busy roads.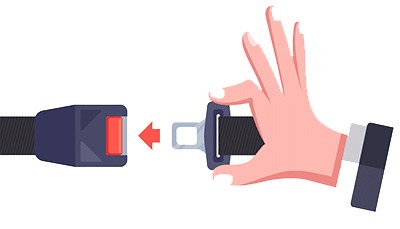 The good news is that there are various ways to reduce accidents and save time and money. Some people might be surprised to know that driver's education courses can help prevent car accidents.
There are many ways to avoid accidents. The most common way is by staying alert while driving, which can be achieved by using car safety features like lane departure warnings or adaptive cruise control systems.
It is the law.
The law in every country mandates drivers and passengers to wear seatbelts when commuting in vehicles, regardless of the situation. You can be fined or given a ticket if the authorities find you are not wearing a seatbelt. Therefore, you should be a law-abiding citizen and avoid the risk of being fined for a simple aspect that you can avoid.
If you're a driver and you get into a car accident while driving under the influence of alcohol or drugs, it can be difficult to know how to handle the situation.
One way to avoid legal trouble is by wearing a seat belt. In fact, in many states, if you are found wearing a seat belt and are not at fault for the accident, there is no need for any further action on your part.
No insurance
If you suffer from an accident and plan to claim compensation, your insurance company cannot cover for damages if they discover that you did not wear a seatbelt when the accident happened. Today, the safety of motorists is a priority for law enforcement globally. That has led to increased traffic stops and citations for drivers who fail to wear a seatbelt or are not properly restrained in their vehicles. In reality, most insurance firms first investigate the accident and determine why they should offer you insurance for the damages.
Health Benefits Of Wearing a Seatbelt
Around 3,000 people die each year from not wearing a seatbelt in Canada. The National Highway Traffic Safety Administration (NHTSA) in Canada recommends that all passengers wear a seatbelt when driving.
People don't wear their seat belts due to the discomfort and inconvenience of wearing them while driving. Some people also think that they are not necessary because they believe they will be safe in an accident.
If you are concerned about your safety and want to minimize your risk of injury in a car accident, you should always wear your seatbelt while driving.
Prevents You From Falling Out of Your Car During A Crash
As cars become increasingly autonomous, it is important to keep in mind that human drivers are still responsible for the safety of the passengers. The car's features can help prevent accidents and keep you safe, but they can't take away all the risks.
The best way to prevent yourself from falling out of your car during a crash is never to put your hands on the wheel and always wear your seat belt. Admittedly, if you do not wear a seat belt, your face can hit the windshield. Luckily, the seatbelts limit that inertia. Even if you are driving your car at 100km/h, your face will not experience any impact.
It works alongside airbags.
Airbags play a critical role in acting as defensive systems, preventing you from moving from your appropriate seating position and suffering from injuries during collisions. However, airbags work alongside seat belts. Therefore, if you fail to wear a seat belt, your insurance firms cannot defend you, and your airbags will protect you.
When wearing a seat belt, the most important thing to remember is always to buckle up. It's the law, and it's the safest way to travel. The use of seat belts has been proven to reduce the risk of death by 50%. Although some people don't wear seat belts, it's still a good idea for you to do so.