We know that taking the G1 written test as part of your Ontario driver's licence can cause anxiety in even the most confident driver. That is why we designed this free G1 practice test so that you can practice and get an idea of what types of questions will be asked on the actual test.
Emergency vehicles can be identified by…?
Alternating flashing headlights
---
Flashing red or blue lights
---
Which of these vehicles can be used by emergency services?
Emergency vehicles include…?
Share the quiz to show your results !
Subscribe to see your results
Emergency vehicles
I got %%score%% of %%total%% right
%%description%%
More Learning Options:
Tips For Driving Safely Around Emergency Vehicles
On any day on any road in Canada, you can be minding your business while driving along when you hear sudden wailing sirens that cause a slight panic. Emergency vehicles are vital in ensuring safety within our communities. That is why we give way whenever they are passing on the road.
However, when driving, sometimes it can be challenging to know the actions to take whenever you hear those sirens wail and see the lights flash behind you in your rearview mirror. The emergency vehicle is attending an emergency somewhere, so what should you do? Swerving with panic and acting reflexively isn't an option. So, what do you do? When driving near emergency vehicles, follow the guidelines below.
1.  Right-of-Way
Any emergency vehicle takes precedence when the lights are flashing and the siren is blaring. Whenever this happens, the green and red light signals at the road intersections, yield signs, and normal routine at the stop signs and roundabouts become less critical than the fire truck, ambulance, and a police car trying to negotiate the roadway.
2.  When The Vehicle Comes From Behind
Whenever a driver hears wailing sirens approaching from behind, they should first look at the side and rearview to locate the emergency vehicle. Then, avoid making an instinctive move towards the right when driving around emergency vehicles immediately. Instead, when, or if there is an opening on your right side, on the shoulder, hopefully, start the turn signal and closely watch for bicycles, pedestrians, and other vehicles before starting to grind slowly to your right, provided the way is clear.
3.  Follow From A Safe Distance
Tailgating is always a terrible idea to find yourself driving at the back of an emergency vehicle with flashing lights and blaring sirens. Always ensure you keep a distance behind the emergency vehicle. Ensure you are not closer than 500 feet off the emergency vehicle. In some states, driving closer than 500ft could attract some tickets, followed by a substantial penalty.
4.  A Front Approaching Emergency Vehicle
Knowing what to do when the lights and sirens are in front of you is a little trickier because, more often than not, the emergency vehicle usually is in the incoming lanes. The general rule is pulling over your right and then turning on the hazard lights whenever this happens. Whenever an ambulance, fire truck, or police car finds itself in a congested part of the road, in most cases, they drive on the wrong side of the road to ensure they arrive at the emergency faster.
5.  Never Try Passing An Emergency Vehicle With Flashing Lights
This is illegal and may earn you a ticket. Besides being illegal, it is a dangerous thing to attempt, resulting in a serious accident. Slow down and give way to the approaching emergency vehicle.
6.  Slow Down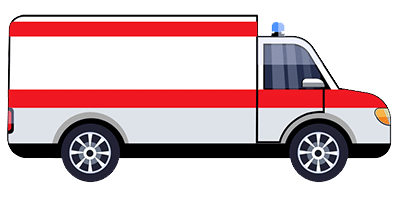 You should yield to emergency vehicles whenever you can do it safely. For example, drive to your right when driving around an emergency vehicle to allow it to pass. You should also move out of the lane nearest to the emergency vehicle passing or has stopped. If no o other lane is available, for instance, in a two-lane road, you should significantly slow down.
Do Not Honk Your Car Horn
It is annoying, and it could distract or startle the driver of an emergency vehicle, which is always dangerous. The driver will most likely forget about driving safe, especially when you honk incessantly behind them, thinking they are driving slowly just because your plans were disrupted.
Turn Off The Loud Music and Cell Phones
If you are driving with loud music, consider turning it down. If you are talking on your phone or texting, remember that this can wait until the emergency is over. This is just common sense. Do not distract yourself while driving, especially if you encounter an emergency vehicle with sirens.
Remain Calm And Don't React To The Lights & Sirens
When driving around emergency vehicles, it's important not to panic or make any panicky moves because this could lead you to crash into other cars, resulting in a severe accident. Thus, when an emergency vehicle with flashing lights and a blaring siren draws near, you would be wise to remain calm and let them pass by in peace.
Conclusion
If you're driving and find yourself at the same side of the road as the emergency vehicle is passing, stop and wait for the emergency to pass, regardless of the direction. When driving around emergency vehicles, ensure you are alert and aware of your surroundings to avoid collisions. Keep a safe distance behind the ambulance, police care, or fire truck.