Quiz: Driving through roundabouts
If you arrive late for the driving test, it will be cancelled. To avoid that from happening, make sure that you arrive at least 30 to 15 minutes early before the scheduled appointment.
You should start signalling for your exit from a roundabout…?
As soon as you pass the last exit before yours
---
As soon as you enter the roundabout
---
As soon as you start turning
---
Once you have begun to turn
---
You must travel around a roundabout…?
At a roundabout, who has right of way?
All traffic already on the roundabout
---
Traffic joining the roundabout
---
Traffic exiting the roundabout
---
Traffic with the highest speed
---
If you miss your roundabout exit, you should…?
Share the quiz to show your results !
Subscribe to see your results
Driving through roundabouts
I got %%score%% of %%total%% right
%%description%%
More Learning Options:
What's a Roundabout and How to Drive in a Roundabout?
Roundabout traffic moves in a direction that is counterclockwise around particularly on a central island. All entering vehicles in a roundabout must conform to traffic that is already in a roundabout. Roundabout is a circular intersection type wherein vehicles travel counterclockwise around on a central island and it contains multiple lanes or there are two or more roads that meet. Make sure you have enough understanding of how to drive safely in a roundabout and this short article will help you to have awareness on how to drive rightly in the roundabout.
Variations Between A Traffic Circle and Roundabout
One of the disparities between traffic circles and roundabouts is the center island of a roundabout which is smaller than the center island of the traffic circle. The design of the roundabout is it has a tighter or shorter curve around the island so that drivers may drive slowly and lower on their speeds. It may also have a sloped curve to allow more space for big commercial vehicles. Having a roundabout is a safer option for traffic circles especially in high-traffic areas.
Types of Roundabout and Its Characteristics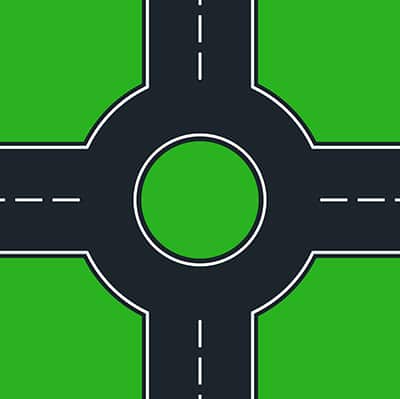 Roundabouts in Canada are distinguished into three basic categories based on the number of lanes and size to facilitate design issues or particular performance and these are single-lane roundabouts, mini-roundabouts, and multilane roundabouts. There's a broader range of roundabout configurations that exist in practice nowadays than the 3 categories and these include signalized roundabouts, grade-separated roundabouts, and double roundabouts. In urban areas, their roundabouts feature inscribed circle diameters that are smaller due to their right-way constraints and smaller design type of vehicles. It also includes more bicycle features and extensive pedestrians. In rural areas, their roundabouts have a higher approach speed which may feature additional attention to approach alignment, visibility, and cross-section details.
Driving in a Roundabout
The following steps below can help you in safely navigating roundabouts as a cyclist or a motorist:
Note the applicable exit.
Choose the right lane before you will enter a roundabout as with any corner or intersection.
When you approach a roundabout, you need to slow down and be mindful of some crossing pedestrians.
Yield to the traffic inside circular lanes and kindly wait for a reasonable gap.
As being implied by the posted speed limit signs, you must retain a safe speed throughout the roundabout.
You must never change any lanes within the roundabout.
Signal always for a right turn if you approach the exit you want to take while you are maintaining a safe limit speed.
Driving and Leaving Roundabout
When you are driving in a roundabout, you must keep on the right of the center island and drive in a direction that is counter-clockwise until you will reach the exit. Do not alter lanes and pass large vehicles. To avoid a collision, don't stop inside the roundabout. To exit in the roundabout, always use your right-turn signal. If you miss the exit, keep on driving around the roundabout and then reach the exit lane.
Roundabout Signs
Information Sign. Indicates directions to your destination.
Physical Conditions Sign. It indicates that there is a roundabout ahead.
Regulatory Sign – Lane Control. Indicates your chosen lane before the roundabout.